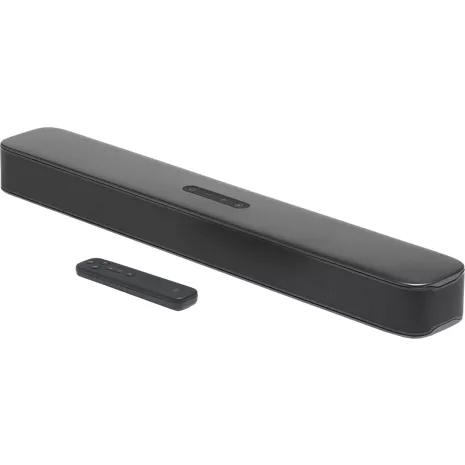 This item is currently only available for Express Pickup. 
Select a store to continue.
Pestaña Resumen seleccionada 1 de 4
Inicio de sección Resumen
Enhance your home theater experience with the Bar 2.0 All-in-One Soundbar. This compact, soundbar fits neatly underneath your TV, blending in seamlessly with the rest of your home theater system. The included HDMI ARC or optical cable connection makes it super easy to set up and use your sound system. And, the included remote control makes it easy to turn adjust the volume from anywhere in the room.
Movie theater-quality sound.
Built-in Dolby Digital creates an authentic cinema experience in the comfort of your own home. Combined with deep bass and JBL Surround Sound, you can immerse yourself in your favorite movie with ease.
Tune in.
The Bar 2.0 All-in-One Soundbar enhances more than just movies. Use the Bluetooth connection to stream your favorite playlist for an impromptu dance party or relaxing background music.
Reseñas
74% of reviewers recommend this product.
Not impressed
The volume goes to 100 and it's still not loud. The sound is fine. I got it for free when we added a new line. I would return it if I could.
Good, but no adjustments
bidibidibidi . 10 días hace
This soundbar improved the quality of my TV audio, but I'd like to have bass and treble controls on the unit. It apparently doesn't mesh with the audio adjustments on my TCL tv. It is a good overall value, though. Got it on sale.
Customer Support - 10 days ago
We appreciate your time in providing feedback on our JBL Bar 2.0 All-in-One. We understand that it didn't meet your expectations. We're always looking for ways to improve and we'll make sure to share your feedback to the appropriate team.
harmanaudio.com Publicado originalmente en harmanaudio.com