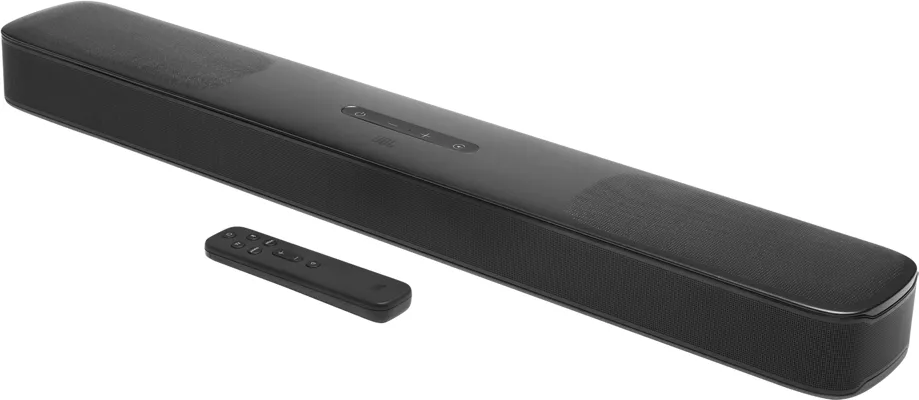 Crea una experiencia similar a la del cine en casa con la Bar 5.0 Multibeam. Con Dolby Atmos y el sonido envolvente MultiBeam, esta barra de sonido de avanzada crea una experiencia de sonido 3D proyectando el sonido a todos los rincones de la habitación. Además, intensifica tu experiencia con unos graves profundos y te permite recalibrar el sonido en función del diseño de la habitación. Con la transferencia en Ultra HD 4K con Dolby Vision, puedes adaptar el formato de tu servicio de streaming favorito o de tus reproductores de Blu-ray HD. El HDMI eARC crea una experiencia de audio de mayor calidad, incluyendo Dolby Atmos virtual. Y funciona con control de voz para que puedas usar tu asistente digital para comenzar a hacer streaming de tu música.

Streaming inalámbrico Bluetooth®.
Haz streaming de tus programas y películas favoritos desde cualquier dispositivo. Esta barra de sonido también cuenta con Chromecast, AirPlay y Alexa Multi-Room Music integrados. Incluso puedes establecer configuraciones para múltiples habitaciones para crear una ambientación unica.
Reseñas
28 reseñas
de las reseñas recomiendan este producto.
Terrible with wireless connections, decent audio
alexlicious · 20 days ago
I like the sound but after trying to configure it for my environment, I was frustrated by constant or random disconnects. I have a Projector with (originally AppleTV, then changed to Firestick) and I have set up a wireless connection to the soundbar under the screen so that I don't have to wire a connection to is. The features in this product should support this functionality. Ultimately I have tried Airplay 2, Bluetooth, and finally Alexa, and the soundbar constantly wants to go to standby mode and won't stay connected wirelessly to my AppleTV or Firestick (consistently). For the AppleTV and airplay 2, I had an older AppleTV (that supports Airplay 2) and the soundbar would constantly disconnect then go to sleep every 5-10 minutes and I would have to manually re-pair. Very frustrating and unusable!!! I would literally go to the bathroom or make a drink, and come back to it being unpaired AGAIN. I finally have it working reasonably with the Firestick, so I recommend this method to anyone that is running into similar issues but it still required me to purchase another streaming device instead of the AppleTV, and even then it still randomly will not connect automatically (but it is now at least usable). At least it doesn't consistently disconnect every 5-10 minutes like Airplay 2. I didn't get to try a newer AppleTV, but I honestly was done with the disconnections so wasn't going to continue using Apple. Bluetooth with the AppleTV also constantly disconnected. The Firestick will connect, but I need to turn on both the Soundbar and Firestick at the same time since the Soundbar standby mode doesnt seem to get the indicator that it should connect automatically. Aside from the wireless disconnects. Connecting the soundbar to with Apple Home or even Google home was terrible. I messed around with it long enough that i got it working, but i couldnt even define the exact steps. Just mess around with it until it connects. All the above is a shame because the sound is pretty good when it works for an all-in-one soundbar. I would go with a different product if I had the chance, I have had this for a full year now.
Customer Support - 19 days ago
We appreciate your time for providing us your feedback on our JBL Bar 5.0 Multibeam. We're sorry to hear that it didn't meet your expectations. We're always looking for ways to improve and we'll make sure to share your feedback with the appropriate team.
Sí, recomendaría este producto.