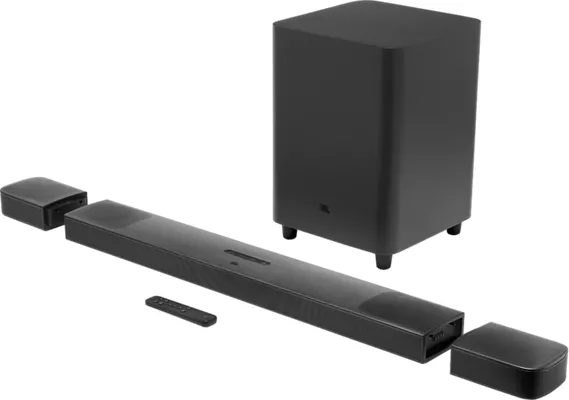 Sumérgete en una experiencia de sonido en 3D con la barra de sonido Bar 9.1 Surround. Viene con Dolby Atmos DTS:X integrado y 4 altavoces con emisión hacia arriba que resuena en el techo y regresa a ti, para que disfrutes de una experiencia de alta calidad. El sistema de 820 vatios y los graves potentes están diseñados para ofrecer una auténtica experiencia de sonido envolvente 9.1, para que puedas disfrutar el sonido del cine en tu hogar. La transferencia Ultra HD 4K con Dolby Vision permite que el sonido se adapte a la calidad de la resolución del video. Y los altavoces desmontables pueden acompañarte vayas donde vayas, con hasta 10 horas de reproducción.¹

Streaming inalámbrico.
Con streaming inalámbrico Bluetooth®, puedes reproducir música desde tu smartphone o tablet sin problemas. Y con Chromecast y AirPlay 2 integrados, puedes incluso hacer streaming de tus películas y programas de televisión favoritos.

¹ La duración de la batería y los ciclos de carga varían según el uso, las configuraciones y otros factores; los resultados reales variarán.

Reseñas
78 reseñas
de las reseñas recomiendan este producto.
Poor Bass and Overall
Really weak and underwhelming subwoofer. Same output as the 5.1 unit i.e. 300W. A reap off for sound enthusiasts looking for powerful sound systems. Hi-Fi systems are miles better Weak extension speakers as well. I have to hold them to my ear to confirm they are on Not value for money
Customer Support - 10 days ago
Thank you for taking the time to provide us with your feedback on our JBL Bar 9.1. We're always looking for ways to improve, and we'll make sure to share your feedback with the appropriate team. If you have any questions or concerns about our products, please contact our customer support.
wow!!!!!
amazing i love it!! 5 star for sure!!!!!!!!!!!!!!!!