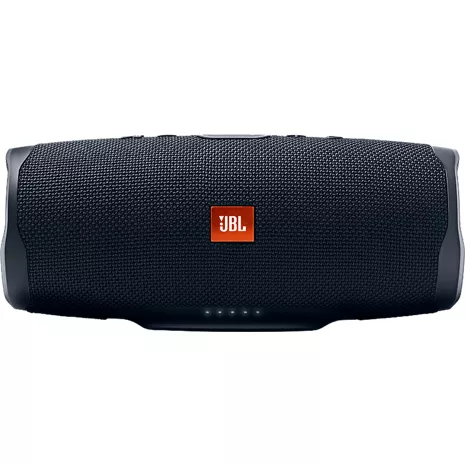 Devoluciones gratuitas en el plazo de 30 días.Detalles
Obtenlo rápido
Selecciona las opciones de envío al pagar. Sujeto a elegibilidad.Detalles
Mejora tu experiencia de audio con el altavoz Bluetooth portátil Charge 4 que es ideal para tus viajes. El controlador desarrollado y patentado y los 2 radiadores de bajos de JBL se combinan para ofrecer un sonido profundo, potente y de espectro completo. Sincroniza hasta 2 smartphones o tablets con tu altavoz y túrnate para controlar la música con el streaming Bluetooth® inalámbrico. O aprovecha JBL Connect+ para conectar más de 100 aparatos compatibles y lleva tu fiesta a otro nivel.

Más potencia, más música.
La batería recargable de 4 mAH del Charge dura hasta 20 horas de reproducción.¹ Y cuando tu teléfono o tablet se esté agotando, puedes conectarlo al práctico puerto USB-C del altavoz y usarlo como una batería externa normal.

Disfruta tu día.
¿Se pronostica mal tiempo? Escucha bajo la lluvia con un altavoz duradero y resistente al agua que puedes llevar a la playa, la piscina o el lago.² La resistente funda de goma del Charge 4 ayuda a mantenerlo protegido de golpes, rayones y otros tipos de daños menores.

¹ La duración real de la batería varía según el uso, las configuraciones y las condiciones ambientales.
² Resistente al agua con calificación IPX7 (hasta 30 minutos a una profundidad de 1 metro).

Reseñas
76% de las reseñas recomiendan este producto.
Lost cord
Sí, recomendaría este producto.
I bought this to take on vacation. When I arrived home I noticed the electrical cord was missing. Can you tell me what to buy for a replacement. Gracias
Outstanding portable speaker
Bought it for my wife as a present. I am in awe of the sound quality from such a small package. It will fill the room with quality sound!