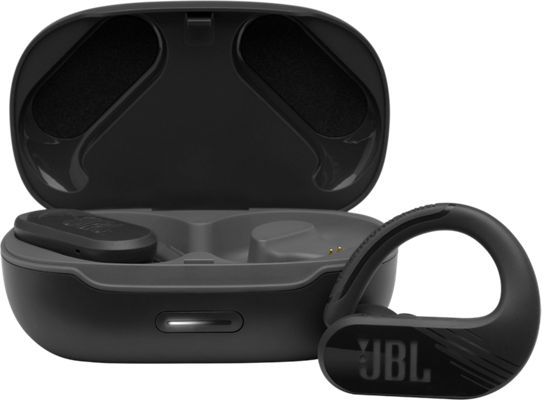 Formas de ahorrar
Y más
Oferta de financiación exclusiva para los titulares de Verizon Visa® Card. Oferta por tiempo limitado.
Ver detalles
Obtenlo rápido
Selecciona las opciones de envío al pagar. Sujeto a elegibilidad.
Sumérgete en tus canciones favoritas con los Endurance Peak II. Estos cómodos audífonos tienen el diseño Powerhook para ofrecer un ajuste ergonómico y un fácil control mientras ofrecen el sonido JBL Pure Bass. Contesta tus llamadas con manos libres o llama a tu asistente digital sin interrumpir el ritmo de tu día. La activación básica de doble conexión te permite usar uno o ambos audífonos sin notar un cambio en el rendimiento. Y, con certificación IPX7 de resistencia al agua, pueden resistir hasta el entrenamiento más exigente.¹

Batería de larga duración.
Mantente en movimiento con una batería de hasta 30 horas de duración.² Los audífonos ofrecen hasta 6 horas en una sola carga, con hasta 24 horas adicionales con el estuche de carga portátil.²

¹ Certificación IPX7 de resistencia al agua. Se puede sumergir hasta 1 metro de profundidad por hasta 30 minutos.
² La duración de la batería y los ciclos de carga varían según el uso, las configuraciones y otros factores; los resultados reales variarán.

Reseñas
3.3/5
134 reseñas
41%
de las reseñas recomiendan este producto.
Disappointed
This supposed to be a good review bc worked fine for a year. Now the left earbud stop to work all the time. I reset it but still keeping doing it. Also, stopped to charge. I did all the cleaning that I was informe to do but just stopped to charge. Again just work for a year and then start to have problems with them.
Asistencia al cliente - 7 días hace
We're sorry to hear that the earbuds of your JBL Endurance Peak II have stopped charging. Please check if there's physical damage from the left earbuds, and check the charging case if there is dirt or debris which prevents it from charging properly. Try to charge the earbuds overnight. We're always looking for ways to improve so we'll make sure to submit your feedback to our development team. Please note that this product comes with a 1-year warranty. It would be best if we can work with you directly to get more information and to do troubleshooting with your unit. Please contact our customer support.
PIN?
Won't connect so I unpaired and went to repair it to my phone and it won't pair at all keeps asking for an app or for a pin all apps are up to date
Asistencia al cliente - 1 mes hace
Gracias por contactarnos. If you come across a prompt with: "Please Enter Pincode", the default pin-codes are often 0000 or 1234 - but if this does not work then you can reach out to JBL Customer Service for technical support and assistance.