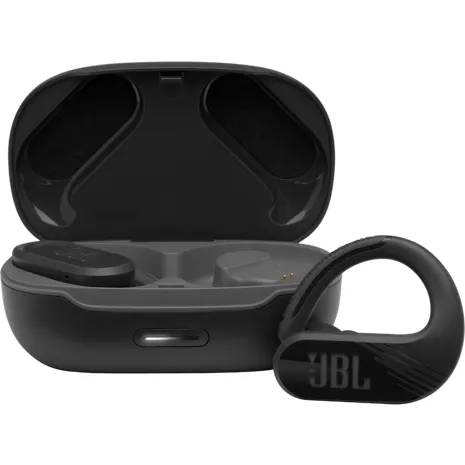 carrusel con 1 diapositivas
Immerse yourself in your favorite tunes with the Endurance Peak II. These comfortable earbuds feature the Powerhook design for ergonomic fit and easy control while delivering JBL Pure Bass Sound. Take hands-free calls or summon your digital assistant without interrupting the flow of your day. The dual connect setup allows you to use either or both earbuds without seeing a change in performance. And, with an IPX7 waterproof rating, they can stand up to even your strongest workout.¹

Long-lasting battery.
Keep it moving with up to 30 hours of battery life.² The buds hold up to 6 hours in a single charge, with up to an additional 24 hours with the portable charging case.²

¹ IPX7 waterproof rating. Can be immersed in water up to 1 meter for up to 30 minutes.
² Battery life and charge cycles vary with use, settings, and other factors; actual results will vary.

Reseñas
34% of reviewers recommend this product.
So so for ease of putting on and sound quality
I bought at as a replacement for a knock off brand that had lost one of the ear pieces. I was happy with what I had although sound quality was not that great. As replacement, I chose GBL based on reviews and affordability. Ended up buying factory recondition one. But not happy with it due to difficulty of putting it on and sound quality and range. May be because it was a reconditioned one!
Customer Support - 9 days ago
Thanks for your feedback, in order for the headphones to give you the best audio response, you must create a tight seal within your ear canal. In order to do this, please do the following.

Angle the ear tip slightly downward to make it easier to insert into your ear canal.
Gently twist the earbud to fit it securely into the shape of your ear.
Continue twisting the earbud into your ear canal to achieve the best seal and secure fit.

It is best to try this with all of the provided ear tip sizes until you find the one that accomplishes this most easily. Once you've done this a few times, it becomes very easy to do every time you put them in your ear.

jbl.com Publicado originalmente en jbl.com
Wouldn't recommend
Worked great for about 6 months, left ear buds started getting spats of low sound quality that would get better sometimes, to then going strictly low quality sound. Now after 8 months it doesn't charge anymore and it's completely junk.
Customer Support - 12 days ago
Our team is ready to assist you with any concerns regarding your JBL Endurance Peak II. One possible cause for the earbuds not functioning properly could be related to charging problems, often triggered by foreign particles on the metal charging contacts. We suggest cleaning the contact points on both the earbuds and the charging case as an initial troubleshooting step. If the problem persists, please reach out to our customer support service through our official website or toll-free hotline for further assistance.
jbl.com Publicado originalmente en jbl.com