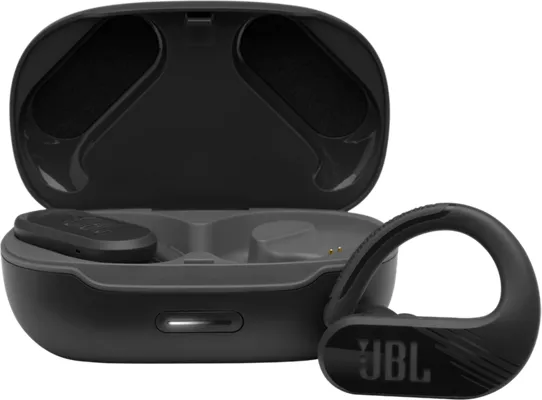 Sumérgete en tus canciones favoritas con los Endurance Peak II. Estos cómodos audífonos tienen el diseño Powerhook para ofrecer un ajuste ergonómico y un fácil control mientras ofrecen el sonido JBL Pure Bass. Contesta tus llamadas con manos libres o llama a tu asistente digital sin interrumpir el ritmo de tu día. La activación básica de doble conexión te permite usar uno o ambos audífonos sin notar un cambio en el rendimiento. Y, con certificación IPX7 de resistencia al agua, pueden resistir hasta el entrenamiento más exigente.¹

Batería de larga duración.
Mantente en movimiento con una batería de hasta 30 horas de duración.² Los audífonos ofrecen hasta 6 horas en una sola carga, con hasta 24 horas adicionales con el estuche de carga portátil.²

¹ Certificación IPX7 de resistencia al agua. Se puede sumergir hasta 1 metro de profundidad por hasta 30 minutos.
² La duración de la batería y los ciclos de carga varían según el uso, las configuraciones y otros factores; los resultados reales variarán.

Reseñas
151 reseñas
de las reseñas recomiendan este producto.
Great for work-from-home
I work from home so a reliable Bluetooth headset is a must. I converted to these from Beats headphones because I never wear both sides at the same time. Beats were just too big and clunky and would get in the way when I'm in the "work zone headspace". I forgot that I had the JBL Endurance piece in my ear because it's so comfortable. Sound is great. Bluetooth is easy to set up. Battery life so far is excellent and even though I don't know all the touch commands, I've been doing well with "on" and "off" Lol. Big fan of these.
Right ear piece
Sí, recomendaría este producto.
Not happy with them. The right ear piece shuts off all the time. They sound good until you can only hear them from your left ear.