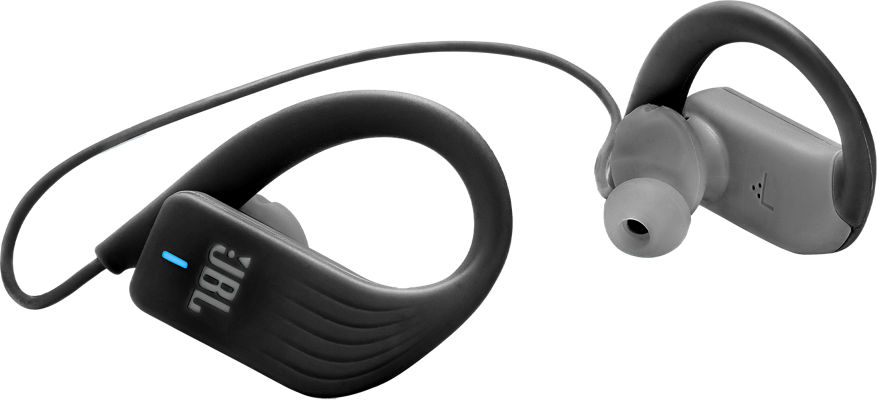 Formas de ahorrar
Y más
Oferta de financiación exclusiva para los titulares de Verizon Visa® Card. Oferta por tiempo limitado.
Ver detalles
Obtenlo rápido
Selecciona las opciones de envío al pagar. Sujeto a elegibilidad.
Entrena a todo volumen con los JBL Endurance SPRINT. Estos cómodos audífonos tienen un diseño de ajuste seguro MagHook para que se mantengan en su lugar mientras realizas tu rutina, y las lengüetas magnéticas facilitan su almacenamiento. Con las tecnologías TwistHook y FlexSoft, estos audífonos livianos y ergonómicos están diseñados para ofrecer comodidad y estabilidad. Los controles táctiles te permiten administrar tu música estés donde estés, así como las llamadas con manos libres. Y, con certificación IPX7 de resistencia al agua, pueden soportar incluso tus entrenamientos más fuertes.¹

Batería de carga rápida.
Los audífonos ofrecen hasta 8 horas de reproducción inalámbrica para que puedas entrenar sin tener que preocuparte por la batería.² Y, con una batería de carga rápida, puedes obtener una hora más de reproducción con una carga de 10 minutos.²

¹ Certificación IPX7 de resistencia al agua. Se puede sumergir hasta 1 metro de profundidad por hasta 30 minutos.
² La duración de la batería y los ciclos de carga varían según el uso, las configuraciones y otros factores; los resultados reales variarán.

Reseñas
2.7/5
212 reseñas
33%
de las reseñas recomiendan este producto.
Look Elsewhere
Fit is very good in ears, but touch controls are poorly thought out. I cannot raise the volume without pausing the music. Maybe I'm missing something, but as per the directions, volume control is next to pause/power control. I'm a fan of JBL, but I'd look elsewhere and pass on these headphones.
Asistencia al cliente - 2 meses hace
Thank you for taking the time to provide us with your feedback. We are sorry to hear that our JBL Endurance Sprint did not meet your expectations. To control the volume of the earbuds, swipe your finger up and down from the right earbud's logo. If you've had this product for less than 30 days and was purchased directly from our website. You can always return it and get a full refund. Please use the link to contact our customer support. https://bit.ly/2WocMfi
They work
Pros: Sound quality is not bad & they truly do secure to your ears Cons: Outer coating of wire is broke on both sides right at the ear bud & showing wiring!! That wire sticks to you or clothing & will stop a head turn mid turn! Not as loud as others i've owned And the touch control part is what sold me at Ist but trying to adjust volume is far from simple! I usually skip tracks forward & backward trying to adjust volume! If I wear a Toboggan or hood it will touch the controls & pause it or skip tracks!!! Volume control should have been by itself on left earpiece instead!!!
Asistencia al cliente - 3 meses hace
Thank you for taking the time to provide us with your feedback. We are sorry to hear that our JBL Endurance SPRINT did not meet your expectations. If you've had this product for not more than 30 days and was purchased directly from our website. You can always return it and get a full refund. Please use the link to contact our customer support. https://bit.ly/2WocMfi