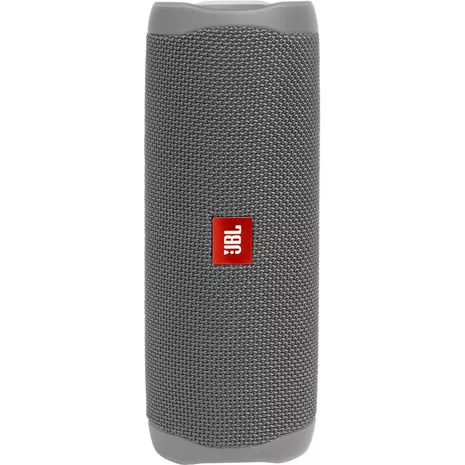 Devoluciones gratuitas en el plazo de 30 días.Detalles
Lleva la fiesta donde quieras con el JBL Flip 5. Este altavoz Bluetooth® portátil y liviano tiene una batería de hasta 12 horas de duración*, para que puedas disfrutar del sonido característico de JBL sin cables molestos.

Diseñado para zambullirse.
Enfréntate a cualquier cosa mientras estás afuera con este altavoz elegante y resistente al agua.† Diseñado con una tela duradera y una resistente carcasa de goma, el JBL Flip 5 está listo para tu próxima aventura.

Lleva tu fiesta al siguiente nivel.
Un controlador de circuito te da bajos profundos y un alto rendimiento para que puedas disfrutar cada reunión "a todo volumen". Empareja varios altavoces con PartyBoost para entretener a tus invitados con el sonido estéreo característico de JBL.

*La duración de la batería y los ciclos de carga varían según el uso, las configuraciones y otros factores; los resultados reales variarán.
†Certificación IPX7 de resistencia al agua. Se puede sumergir hasta 1 metro de profundidad por hasta 30 minutos.
Reseñas
73% de las reseñas recomiendan este producto.
Disappointed
It would be an amazing product if Mac's Magic Mouse and Keyboard wouldn't interfere with its bluetooth connection. Unable to use my Mac with this product because of the constant bluetooth interference caused by bluetooth peripherals, something NOT experienced with the JBL Charge 5.
Asistencia al cliente - 15 días hace
We appreciate your feedback on our JBL Flip 5. The Bluetooth range for this product is 10-15 meters without interference, including walls, other objects, and other wireless connections. If you need more help, please contact our customer support.
Terrible Feature and product upgrade
AnthonyH124 . 22 días hace
JBL just ruined their products. They decided to rebrand the connect+ feature as "party boost" and discontinued support of the now legacy connect+ feature. What a terrible brand move. I own a lot of apple products and even my old iPad mini still supports all the apple features across ALL my old and new products. Makes my life Simple and keeps me brand loyal. Now I have some older JBL speakers that can't pair with this JBL Flip 5. Never buying JBL again.
Asistencia al cliente - 21 días hace
Thanks for taking the time on providing us with your feedback. We're sorry to hear that our personalized JBL Flip 5 didn't meet your expectations. Siempre estamos buscando maneras de mejorar. We'll make sure to submit your feedback to the appropriate department. If you need more help with the unit, please contact our customer support.