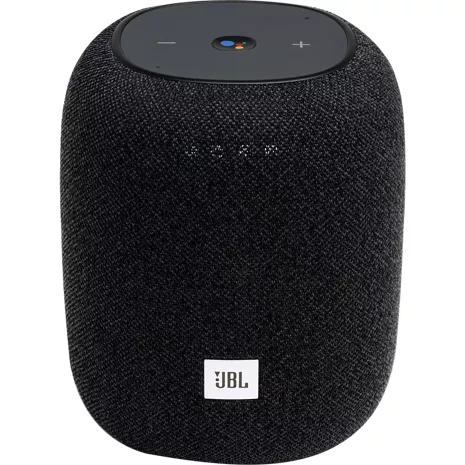 Sumérgete en una experiencia de sonido superior con el altavoz inteligente compacto JBL Link Music. Ya sea que estés oyendo tu podcast favorito durante una noche tranquila en casa o bailando toda la noche en una fiesta, el sonido de alta calidad y la activación básica de este altavoz te permiten disfrutar tu música, podcasts y audiolibros favoritos sin problemas. Y con el Asistente de Google, puedes controlar fácilmente la música con tu voz, para que puedas saltar las canciones sin mover un dedo.

Sumérgete en sonido de alta calidad.
El sonido profesional de 360 grados de JBL usa un transductor de rango completo que trasmite en todas las direcciones. Esto, combinado con un audio de ancho de banda completo, crea una mejor experiencia, con agudos claros y bajos de pared a pared. No importa dónde estés, siempre oirás lo mejor de tu música.

Diversifica tus opciones musicales.
Además de tus listas de reproducción favoritas en tu teléfono o laptop, puedes agregar tus servicios de streaming favoritos con el Chromecast y AirPlay 2 integrados. Las estaciones de música, audiolibros y podcasts compatibles se pueden reproducir a través del altavoz Link Music con un solo toque.

Activación básica rápida y simple
Con la aplicación Google Home gratuita para iOS y Android, la configuración del altavoz JBL Link Music es rápida y sencilla. Solo tienes que emparejar el altavoz con la aplicación y en cuestión de minutos podrás disfrutar tu lista de reproducción favorita.
Reseñas
55% de las reseñas recomiendan este producto.
Misleading promotional video, it is not portable
Although the sound is good, this IS NOT A PORTABLE SPEAKER, as the promotional video shows. The video displays the product all around the house and even on the packaging there is an image of the product in the living room and no cables plugged in, this is very misleading
Asistencia al cliente - 16 días hace
Thank you for taking the time in providing us with your feedback. We'll make sure to submit your feedback to the appropriate department. If you have any questions or concerns about your unit, feel free to contact our customer support for further assistance.
Waste of money. Hard to operate.
I bought this 2 months ago and it has been nothing but frustrating. The Bluetooth feature is very difficult to get to work and connecting via Wi-Fi is a hassle. For something with such a simple function, I am not happy with my purchase.
Asistencia al cliente - 18 días hace
We appreciate your feedback on our JBL Link Music. We're always looking for ways to improve. We'll make sure to share your feedback with the appropriate team. If you have any questions or concerns about your device, please contact our Customer Support.