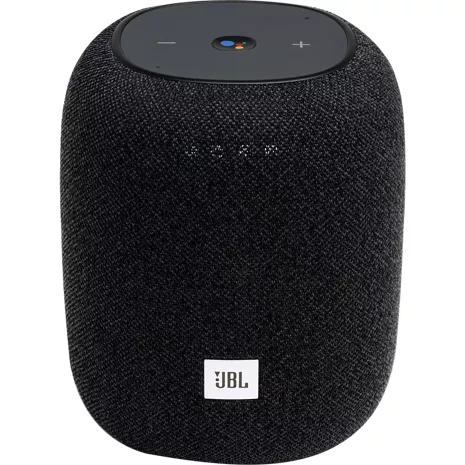 carrusel con 1 diapositivas
Immerse yourself in a superior sound experience with the JBL Link Music Compact Smart Speaker. Whether you're enjoying your favorite podcast during a quiet night at home or dancing the night away at a party, this speaker's high-quality sound and simple setup make it easy to enjoy your favorite music, podcast and audiobooks. And with Google Assistant, you can easily control the music with your voice, allowing you to skip songs without lifting a finger.

Surround yourself in high-quality sound.
JBL 360-Degree Pro Sound uses a full-range transducer that pulses sound out in every direction. This, combined with full-bandwidth audio creates a richer sound experience, filling every inch of your home with clear treble and wall-to-wall bass. No matter where you are, you'll always hear the best your music has to offer.

Diversify your music options.
In addition to your favorite playlists on your phone or laptop, you can add your favorite streaming services with the built-in Chromecast and AirPlay 2. Compatible music stations, audiobooks and podcasts can all be played through your Link Music speaker with just a tap.

Quick and easy setup.
The free Google Home app for both iOS and Android makes it quick and easy to set up your JBL Link Music Speaker. Simply pair your speaker to the app and in minutes you'll be ready to enjoy your favorite playlist.
Reseñas
49% of reviewers recommend this product.
I bought the speaker and can not get it to work with my phone
Customer Support - 10 days ago
Our JBL Link Music is a smart speaker with a Google voice assistant. In order to use its Bluetooth, download and install the Google Home app so it can be set up and connected to your home Wi-Fi. Follow the in-app steps for installation. If you need more help, please reach out to our Customer Support.
jbl.com Publicado originalmente en jbl.com
Great features
Great little speaker that I plan to take with me when traveling
jbl.com Publicado originalmente en jbl.com