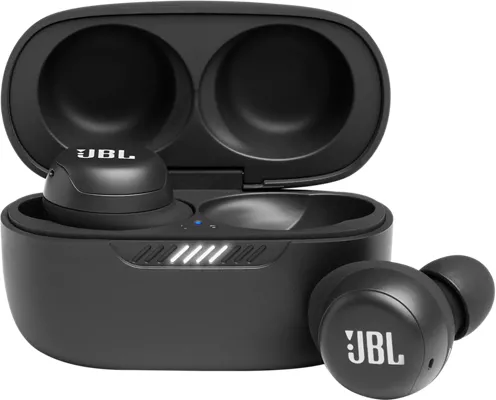 Sumérgete en tus canciones favoritas con los LIVE FREE NC+ TWS. Estos audífonos de ajuste cómodo y seguro vienen con controladores dinámicos de 6.8 mm para que disfrutes el sonido característico de JBL. La cancelación activa de ruidos con Smart Ambient te permite concentrarte en tu podcast o lista de reproducción favorita y, cuando necesites estar atento a tu entorno, puedes activar el ruido de fondo. Dual Connect + Sync se empareja automáticamente con tu dispositivo y te permite usar cualquiera de los dos audífonos o ambos y obtener la misma experiencia auditiva. Y gracias a la certificación IPX7 de resistencia al sudor y al agua pueden seguir funcionando incluso si te sorprende una lluvia.¹

Control táctil de acceso total.
Obtén un control fácilmente. Usa los controles en el audífono para reproducir, pausar o saltar, activar tu asistente de voz y responder llamadas con manos libres con el micrófono doble integrado.

Batería de larga duración.
Disfruta una experiencia auditiva prolongada. Los audífonos tienen una batería de hasta 7 horas de duración con una sola carga y 14 horas adicionales con el estuche de carga portátil.²

¹ Certificación IPX7 de resistencia al agua. Se puede sumergir hasta 1 metro de profundidad por hasta 30 minutos.
² La duración de la batería y los ciclos de carga varían según el uso, las configuraciones y otros factores; los resultados reales variarán.

Reseñas
31 reseñas
de las reseñas recomiendan este producto.
Sound is good, durability and ANC, not so much.
Sounded decent until they stopped working. The audio quality by itself was pretty great, but the ANC functionality was incredibly subpar. I understand that these are a small device and that there is a limit to what science is capable of in terms of sound blockage, but it absolutely could have been better. Bought them in February of 2022, used them ~twice a week for ~an hour at a time, and the case stopped charging altogether by mid-November of 2022. For how much they cost only to fail on me in less than a year of light use, I will probably avoid JBL products in the future.
Customer Support - 11 days ago
We're here to help with your JBL Live Free NC+ TWS. We recommend cleaning the contact pins on the case and earbuds using a cotton swab with alcohol. These pins are sensitive to dust. Place both earbuds on the charging case and see how it goes. If the issue persists, please contact our customer support for assistance.
trash
complete garbage "find my device" feature. I went for a bike ride at night time, since none of the three sizes of provided tips stay in my ear snug, the right earbud fell off. For the price I find it hard to believe they couldn't include GPS location to find them, I can locate my Samsung earbuds miles away but this one was lost from a few meters away. The right earbud immediately unpaired from my device bluetooth less than 8 meters as soon as it fell off my ear. I looked for it for hours but cannot find it. the left one rings but the right one cannot be found even though it was previously connected right before it fell off my ear. I feel like they designed these earbuds to be lost easily so that you have to buy new ones.
Customer Support - 1 month ago
Thank you for taking the time to provide us with your feedback on our JBL Live Free NC+ TWS. We understand that it didn't meet your expectations. This product is supported by the JBL Headphones App, and there's a feature to find your buds. This app is available to download on the Playstore and Appstore. Siempre estamos buscando maneras de mejorar. We'll make sure to submit your feedback to the appropriate department. If you have any questions or concerns with your device, please contact our customer support so we can assist you.