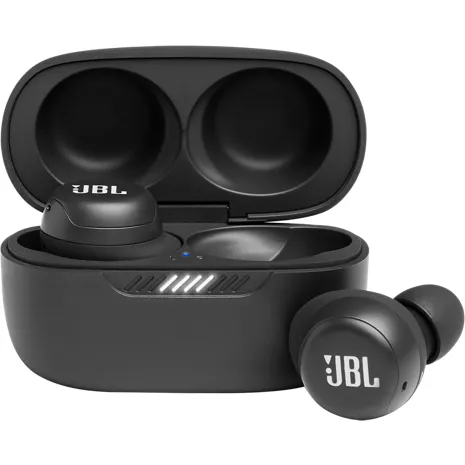 Pestaña Resumen seleccionada 1 de 4
Inicio de sección Resumen
Immerse yourself in your favorite tunes with the LIVE FREE NC+ TWS. These comfort-secure fit earbuds come with 6.8mm dynamic drivers for JBL Signature Sound. Active Noise Cancelling with Smart Ambient allows you to focus on your favorite podcast or playlist, but tune in the background noise when you need to be aware of your surroundings. Dual Connect + Sync automatically pairs with your device and allows you to use either bud or both and get the same listening experience. And, the IPX7 sweatproof and waterproof rating can keep working even when you get caught in the rain.¹
All-access touch control.
Full control is at the tip of your finger. Use the on-ear controls to play, pause or skip, activate your voice assistant and take hands-free calls with the integrated dual-mic.
Long-lasting battery.
Enjoy a lasting listening experience. The buds hold up to 7 hours of battery life in a single charge with an additional 14 hours with the portable charging case.²
¹ IPX7 waterproof rating. Can be immersed in water up to 1 meter for up to 30 minutes.
² Battery life and charge cycles vary with use, settings, and other factors; actual results will vary.
Reseñas
11% of reviewers recommend this product.
thumps when running
1)White noise when there is no active audio coming through. 2) inside thumps when running. It stays in the ear well & is comfortable to wear.
jbl.com Publicado originalmente en jbl.com
AndrewT101 . 24 días hace
Right headphone wont play music. Tried everything. is charged and controls react when I touch the headphone but no sound will come out of it. I am using them with an iPhone and I have tried everything. shipped defective product it looks like.
Customer Support - 24 days ago
Thanks for your feedback. We're here to help with your JBL Live Free NC+ TWS. This issue can be resolved by manually pairing the left and right earbuds. First, un-pair the one earbud that likely is paired to your mobile and working. You must forget the JBL Live Free NC+ in your BT menu. Double press the small button on the charging case beside the charging port and this will manually connect both earbuds. Now turn your BT back on your mobile device and power on both the Left and Right earbuds which should automatically go into pairing mode and pop up on your discoverable BT devices. Choose the JBL Live Free NC+ TWS and now both earbuds should be reconnected to your device. If these steps do not fix the problem, please reach out to JBL Customer Service for technical support and assistance.
jbl.com Publicado originalmente en jbl.com