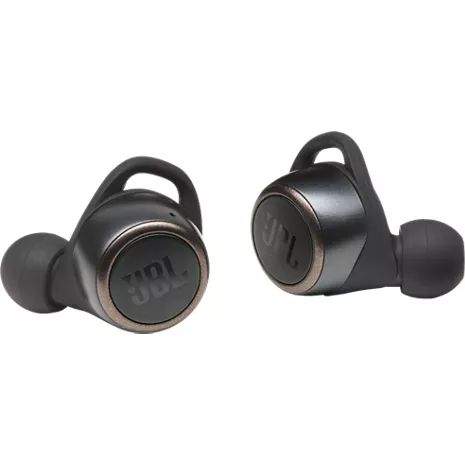 Déjate llevar por el sonido JBL Signature con los audífonos intrauditivos inalámbricos LIVE. Estos auriculares completamente inalámbricos tienen Ambient Aware, para que te sumerjas en tu lista de reproducción favorita a la vez que estás al tanto del mundo que te rodea. La función TalkThru te permite chatear con las personas que te rodean sin quitarte los audífonos. Controla el volumen, salta canciones y recibe llamadas estéreo manos libres con los controles táctiles para mayor comodidad. Y son resistentes al sudor y al agua,† para que puedas usarlos mientras ejercitas o cuando haya mal clima.

Y para obtener asistencia, ten acceso inmediato a tu asistente de voz. Pregunta a Google o revisa con Alexa al instante. Simplemente designa tu asistente preferido con la aplicación para audífonos de JBL y listo.

Un calce cómodo y seguro. Asegúrate de tener el calce perfecto. Estos audífonos vienen con puntas de diferentes tamaños y estabilizadores, para que los audífonos se sientan siempre cómodos.

Mucho tiempo de uso. Estos audífonos ofrecen hasta 6 horas de tiempo de reproducción con una sola carga. Agrega hasta 14 horas más con el estuche de carga inalámbrica y podrás obtener 1 horas de batería con una carga rápida de 10 minutos.

La duración de la batería y los ciclos de carga varían según el uso, las configuraciones y otros factores; los resultados reales variarán. †Certificación IPX5. Pueden resistir un chorro de agua de baja presión.
Reseñas
48% de las reseñas recomiendan este producto.
Poor purchase
Bad choice . 3 meses hace
Purchased mistake! Thought JBL was reputable but this purchase was a poor choice. They never paired with my Bluetooth won't even turn on. I wantva full refund to my account.
Ancient technology
I don't know how long these have been on the market but to have a pair of non independent earbuds these days is unusable. And the sound level is supposed to reach 110 decibels sounds lower and just ok. I will give them to someone else that doesn't care about quality