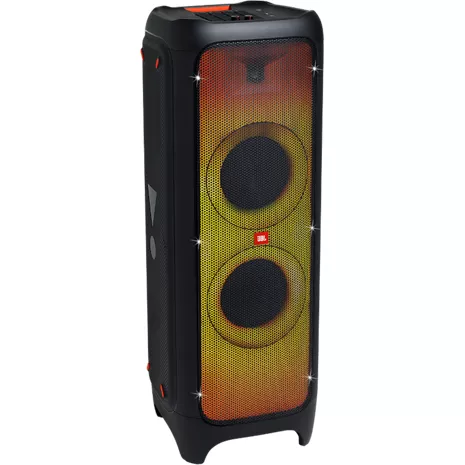 Pestaña Resumen seleccionada 1 de 4
Inicio de sección Resumen
Pump up the party with the Party Box 1000 Portable Speaker.
This powerful party speaker features JBL Signature Sound for an authentic audio experience.
Mic and guitar inputs make it easy to switch to live music.
Pre-program your party playlist on a USB thumb drive and plug it in directly to your speaker.
The DJ launchpad allows you to play drums, keyboard and piano, as well as control and loop on the fly.
True Wireless Stereo and RCA connections make it easy to connect multiple speakers.
Charge your external USB devices while on the go.
The Air Gesture Wristband makes it easy to customize your experience from afar, while full panel lighting matches the mood of your party.
And with concealed wheels, it makes it easy to take the Party Box 1000 Portable Speaker with you on the go.
Reseñas
97% of reviewers recommend this product.
Awesome wall and floor shaking unit
Awww man.... I tell you this thing rocks.. shakes my whole house neighbor came over to see what did I buy .. glad I made the purchase big unit I think I shoulda went with the 710 lol sounds awesome bass boost bumps ..
jbl.com Publicado originalmente en jbl.com
So Close To Perfection
Roberrson3D3 . 4 meses hace
I decided to purchase this speaker primarily because of my love for Bluetooth speakers, especially the portable ones.
In this review, I will provide a breakdown of the speaker based on its key components: Appearance, Audio Performance, and Lights.
Let's start with the Appearance of the speaker, which is visually pleasing.
Its tall design allows it to stand out in any environment.
The buttons on the top are well-organized, providing a better user experience without feeling cluttered.
Moving on to the Audio Performance, which is arguably the most crucial aspect.
I am thoroughly impressed with the speaker's audio quality.
Regardless of the genre of music I listen to, I rarely find the need to use an equalizer due to the inherent high quality of the device.
Although it can deliver excellent sound even at lower volumes, I highly recommend turning up the volume to fully experience the speaker's capabilities.
Now, let's talk about the Lights feature.
While the speaker excels in many areas, the lights are its weakest point, preventing me from considering it perfect.
I would have appreciated more light options, or at least one option that doesn't react to the music.
Additionally, the frequent color shifting of the lights can be bothersome when I prefer to keep them on a specific color.
However, despite these drawbacks, the lights still serve their intended purpose and can certainly enhance any party atmosphere.
In conclusion, this speaker is an excellent product that performs its intended function admirably.
jbl.com Publicado originalmente en jbl.com