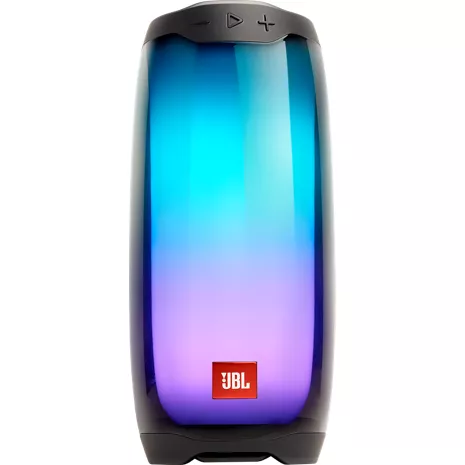 Devoluciones gratuitas en el plazo de 30 días.Detalles
Ilumina la fiesta con el altavoz Bluetooth portátil Pulse 4. El bello espectáculo de luces LED de 360 grados y alta resolución se enciende para la fiesta. Los colores y patrones responden al sonido creando un despliegue dinámico en toda la habitación. JBL Signature Sound también cuenta con un sistema de altavoces de 360 grados para un sonido completo que puedes escuchar en cualquier parte de la habitación. PartyBoost te permite emparejar 2 altavoces compatibles para un sonido estéreo o varios altavoces para un sonido uniforme en todo el espacio. Incluso puedes agitar los altavoces Pulse 4 para sincronizar tu espectáculo de luces. Y con hasta 12 horas de duración de la batería,¹ el ritmo continúa y puedes bailar toda la noche.

Lleva la fiesta al aire libre.
Con una clasificación IPX7 de resistencia al agua, no tienes que preocuparte de que tu fiesta se haga notar. El Pulse 4 es resistente al agua hasta 3 pies.²

Ve más allá con la aplicación.
La aplicación JBL Connect te permite controlar tu fiesta. Incluso puedes seleccionar entre una variedad de temas de espectáculos de luz para mantener las cosas interesantes.

1. La duración de la batería y los ciclos de carga varían según el uso, la configuración y otros factores; los resultados reales varían.

2. Calificación IPX7 de resistencia al agua. Se puede sumergir hasta 1 metro de profundidad por hasta 30 minutos.
Reseñas
80% de las reseñas recomiendan este producto.
It's alive sssss
Sí, recomendaría este producto.
After a month I'm still pretty pleased with this speaker. JBL is top quality and this thing rocks! It's very heavy duty (emphasis on the heavy) and the lights don't look lame, they actually look pretty ba.
One of my favorite purchases sssss
travelinglizard . 8 meses hace
I've had this speaker for nearly a year and I'm absolutely in love with it. Sound is incredible for the size and it has great bass (sometimes too great - have to set it on something soft so it doesn't vibrate the whole table). I bought it for the light show and use it all the time for the lights even when I'm not using the speaker. It gets toted around the house with me like a portable electronic lava lamp. It is a bit heavy and isn't as portable as some of JBL's other speakers, but that's the only downside. This product is one of my favorite purchases, and I plan on getting another one at some point.