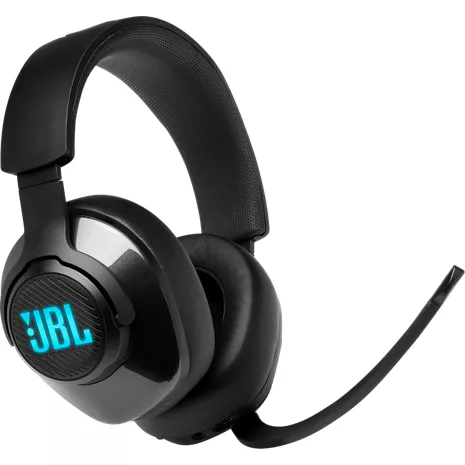 Pestaña Resumen seleccionada 1 de 4
Inicio de sección Resumen
Immerse yourself in your favorite video game with the Quantum 400 Wired Over-Ear Gaming Headset. JBL QuantumSOUND Signature provides a next-level audio experience, from the softest footsteps to the loudest explosions. This lightweight headband with memory foam ear cushions is comfortable to wear through hours of competitive gaming.
High-quality surround sound.
JBL QuantumSURROUND puts you in the middle of all the action. Combined with DTS headphone: X v2.0, it creates a personalized surround sound to make the most out of every gaming session.
Rally the troops.
The flip-up boom microphone targets your voice so every command is crystal clear. It also comes with auto on/off and mute features right on your headset.
Stay in contact.
This headset is DISCORD certified and compatible with TeamSpeak. And the built-in Game-Chat Balance Dial ensures you can always hear the rest of your team over the sounds of the game.
Built for your favorite platforms.
Have high-quality sound, no matter where you play. This gaming headset is compatible with PC gaming, Xbox, PlayStation, Nintendo Switch, Mobile, Mac and VR.
User-friendly software.
The included QuantumENGINE PC software allows you to personalize your headset. Specialize your surround sound settings, create separate user profiles, and adjust the equalizer, all from this easy-to-use software.
Reseñas
79% of reviewers recommend this product.
Nice
Sí, recomendaría este producto.
They are good quality. I didn't know it was for kids so that was alet down but worth the money
Great Headphones
Sí, recomendaría este producto.
Great Headphones! Can be a little hard to figure out at first but still great. I use these for work and personal use for PC gaming and they've been nice.