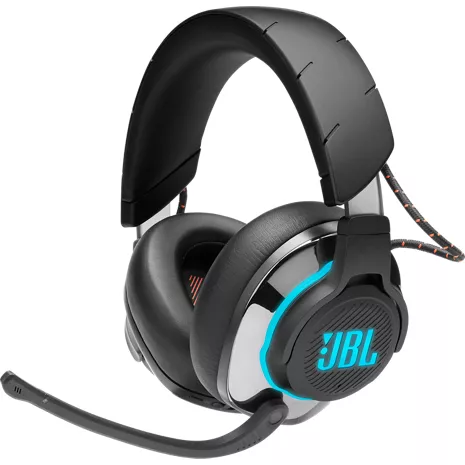 Pestaña Resumen seleccionada 1 de 4
Inicio de sección Resumen
Take your gaming audio experience to the next level with the Quantum 800 Wired Over-Ear Gaming Headset.
This lightweight, ventilated headband with memory foam ear cushions is comfortable to wear through hours of competitive gaming.
JBL QuantumSOUND Signature provides an immersive audio experience, from the softest footsteps to the loudest explosions.
Stay fully engaged.
Active Noise Cancelling is designed for gaming environments.
Stay focused on your gameplay without any unwanted background sounds.
Stay in the loop.
The wireless setup means you can run for a snack or get a drink while staying in touch with your teammates.
And with up to 14 hours of battery life , you can get in hours of game time without worrying about charging your headphones.
High-quality surround sound.
JBL QuantumSURROUND™ puts you in the middle of all the action.
Combined with DTS headphone: X v2.0, create personalized surround sound to make the most out of every gaming session.
Rally the troops.
The voice focus boom microphone features echo cancellation so every command is crystal clear.
It also features a 2-way mute possibility.
Stay in contact.
This headset is DISCORD certified and compatible with TeamSpeak, Skype and other services.
And the built-in Game-Chat Balance Dial ensures you can always hear the rest of your team over the sounds of the game.
Built for your favorite platforms.
Have high-quality sound, no matter where you play.
This gaming headset is compatible with PC gaming, Xbox, PlayStation, Nintendo Switch, Mobile, Mac and VR.
User-friendly software.
The included QuantumENGINE PC software allows you to personalize your headset.
Specialize your surround sound settings, create separate user profiles, and adjust the equalizer, all from this easy-to-use software.
Battery life and charge cycles vary with use, settings, and other factors; actual results will vary.
Reseñas
72% of reviewers recommend this product.
If only the battery lasted longer
Hayabusa88 . 5 meses hace
The audio is crisp and while playing warzone 2.0 or rainbow six siege its my favorite of all time i use them daily and they work like a charm, the only downfall is the bsttery.
The battery doesn't last long as 14 hours.
I stream and go online around 4 or 5pm and around 10 or 11pm my headset is already notifying me that its gonna die, yet the battery last for about 8 hours total wireless with dongle on playstation 4 and with the RGB Lighting on.
If only the battery really last 14 hours.
I would of given it a 5 star out of 5. That's why i decided to give 4. But yes even the people that hear my voice say its very very clear.
No lag etc.
jbl.com Publicado originalmente en jbl.com
CHAN THE MAN . 1 año hace
Best sound ever recommending on buying these products thanks jbl
jbl.com Publicado originalmente en jbl.com