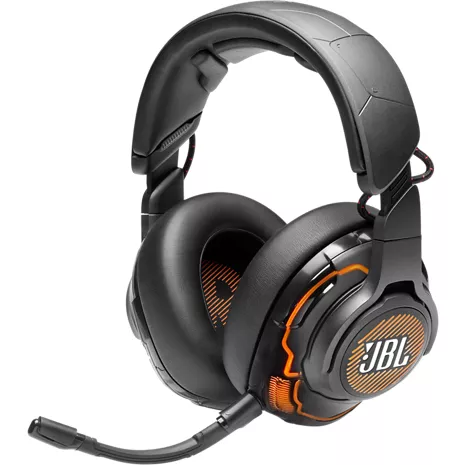 Precio
$249.99
Los precios reflejan 17% de ahorros.Detalles
Mejora tu experiencia de juego con los audífonos Quantum ONE. La banda liviana cuenta con un diseño ventilado envuelto en piel con almohadillas de espuma viscoelástica para sesiones de juego prolongadas. Y funciona tanto con USB como con enchufes de audífonos de 3.5 mm, por lo que funciona bien con tu sistema.

Sumérgete en el juego.
Con el posicionamiento de audio 3D de nivel profesional, puedes crear un entorno sonoro personalizado que te mantenga inmerso en el juego. JBL QuantumSPHERE™ combina el algoritmo de JBL con un sensor de seguimiento de cabeza integrado y un micrófono para un sonido óptimo.

Sonido de calidad exclusivo.
Los controladores de neodimio de alta resolución certificados de 50 mm proporcionan un sonido sintonizado por los audiólogos de JBL específicamente para los juegos. JBL QuatnumSOUND Signature te pone en el medio del juego para obtener una ventaja competitiva.

Cancelación activa de ruidos.
Olvídate del resto del mundo y concéntrate en el juego. La cancelación activa de ruidos elimina el ruido de fondo no deseado y está diseñada especialmente para entornos de juego.

Perfectamente compatibles.
Los Quantum ONE están diseñados para usarse con la mayoría de los sistemas, como PC, PlayStation, Xbox, Nintendo Switch, móvil, Mac y VR. Consulta la guía de conectividad para conocer la compatibilidad.

Alienta a las tropas.
El micrófono vocal desmontable con tecnología de cancelación de eco garantiza que se te escuchará claramente en todo momento. Tiene un botón de silencio integrado en el audífono por si no quieres que se te escuche.

Dial de ajuste de audio-chat.
Equilibra el audio entre el juego y tu equipo. El dial de ajuste de audio-chat con certificación DISCORD te permite sumergirte en tus juegos mientras sigues escuchando lo que sucede en el chat.

Un paquete completo de personalización.
El software QuantumENGINE de JBL para PC permite administrar y personalizar tus audífonos para juegos desde un panel de control fácil de usar. Crea perfiles de usuario, modifica la configuración del micrófono y activa los efectos RGB desde un práctico portal.
Reseñas
66% de las reseñas recomiendan este producto.
terrible design sssss
the headphones work as headphones, except they had an annoying ringing noise for the first month. I called support and they were fixed without doing anything (as in I called support and then the ringing stopped). but the annoying thing is the volume mixer, just from moving, it has caused a break in one my computer's USB ports (the thing in the center snapped off, and as of the day I'm posting, the 2 other USB ports now don't work with the headphones. This is a problem I have never had with any other pair of headphones.
Asistencia al cliente - 2 meses hace
Thank you for taking the time in providing us with your feedback. We're sorry to hear that our JBL Quantum One didn't meet your expectations. Siempre estamos buscando maneras de mejorar. If you have any questions or concerns about your unit, feel free to contact our customer support for further assistance.
Bad headset sssss
BigDeoSlime . 2 meses hace
I've had this headset for a while now and i use it on a pc. Every time i go to use this headset, it will cut out and turn completely off. please help me fix this or give me new one
Asistencia al cliente - 2 meses hace
We appreciate your time in providing your feedback on our JBL Quantum One. Please check if the issue would occur for both connections using the USB cable and the 3.5 mm audio cable. Try connecting it with other devices, if applicable, to see if it only happens on a specific device. You can also try using another USB port or Aux port. Ensure that the port isn't damaged and secured to prevent this issue. If the problem remains, we'd like to work with you directly to further assist you by contacting our customer support via our official website or toll-free hotline.