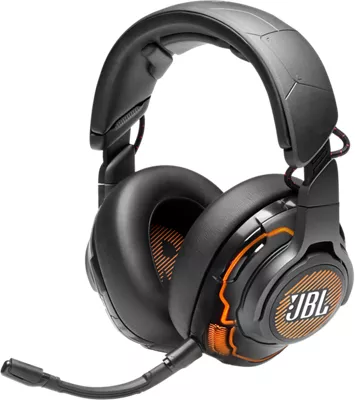 Mejora tu experiencia de juego con los audífonos Quantum ONE. La banda liviana cuenta con un diseño ventilado envuelto en piel con almohadillas de espuma viscoelástica para sesiones de juego prolongadas. Y funciona tanto con USB como con enchufes de audífonos de 3.5 mm, por lo que funciona bien con tu sistema.

Sumérgete en el juego.
Con el posicionamiento de audio 3D de nivel profesional, puedes crear un entorno sonoro personalizado que te mantenga inmerso en el juego. JBL QuantumSPHERE™ combina el algoritmo de JBL con un sensor de seguimiento de cabeza integrado y un micrófono para un sonido óptimo.

Sonido de calidad exclusivo.
Los controladores de neodimio de alta resolución certificados de 50 mm proporcionan un sonido sintonizado por los audiólogos de JBL específicamente para los juegos. JBL QuatnumSOUND Signature te pone en el medio del juego para obtener una ventaja competitiva.

Cancelación activa de ruidos.
Olvídate del resto del mundo y concéntrate en el juego. La cancelación activa de ruidos elimina el ruido de fondo no deseado y está diseñada especialmente para entornos de juego.

Perfectamente compatibles.
Los Quantum ONE están diseñados para usarse con la mayoría de los sistemas, como PC, PlayStation, Xbox, Nintendo Switch, móvil, Mac y VR. Consulta la guía de conectividad para conocer la compatibilidad.

Alienta a las tropas.
El micrófono vocal desmontable con tecnología de cancelación de eco garantiza que se te escuchará claramente en todo momento. Tiene un botón de silencio integrado en el audífono por si no quieres que se te escuche.

Dial de ajuste de audio-chat.
Equilibra el audio entre el juego y tu equipo. El dial de ajuste de audio-chat con certificación DISCORD te permite sumergirte en tus juegos mientras sigues escuchando lo que sucede en el chat.

Un paquete completo de personalización.
El software QuantumENGINE de JBL para PC permite administrar y personalizar tus audífonos para juegos desde un panel de control fácil de usar. Crea perfiles de usuario, modifica la configuración del micrófono y activa los efectos RGB desde un práctico portal.
Reseñas
63 reseñas
de las reseñas recomiendan este producto.
Fantastic Noise Cancelling!
Someone was shot in my building a floor or two beneath me. Thanks to the Active Noise Cancelling I had no idea until I saw a news article about it! Would highly recommend!
Best Gaming headset for quality, but some issues.
Best in class gaming headset. Amazing soun and great bass with everything you'd need in a headset. The JBL software it coming with is also amazing. The microphone is great too and the noise cancelation is an absolute must have and JBL did it great. HOWEVER this headset severely suffers on a few key elements and all who are thinking of buying should beware of these issues. THE AWFUL CABLE- the cable quality is fantastic, the problem is the absolute dead weight volume knob on the center of the cable. It's ridiculously never used or helpful and is a huge annoyance for the fact it will just pull your cable and headset down if it hangs or falls off your desk. It IS NOT substitutional and the headset needs the official cable to function for no good reason. PLEASE JBL make the next headset learn from this design mistake. VOLUME DROPS- This headset for no reason i can find will occasionally reduce incoming volume down and back to normal again multiple times for a short period of time randomly. It is incredibly frustrating and it has no fix that i can find. It is not just a defect in my headset either because i found my best friend this headset and he has the same issue i do. The volume display on the JBL application will also display that the annoying volume knob that shifts game volume to chat volume will move by it's self down and back again periodically and it is not fun to have to deal with. Otherwise i would rate this headset at 5 stars without a doubt, but with these issues being so frustrating and not of my control i cannot rightfully give it 5 stars.