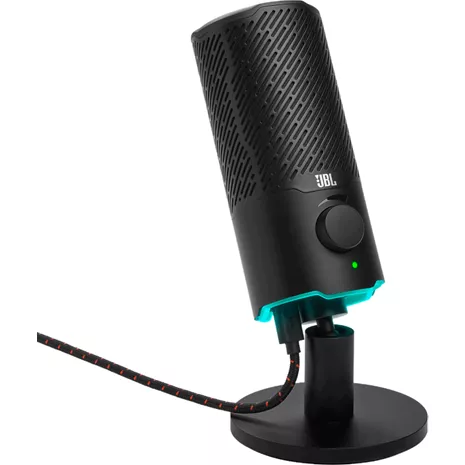 Free returns within 30 days.Details
Pestaña Resumen seleccionada 1 de 4
Inicio de sección Resumen
Whether you're recording podcasts or streaming your favorite video game, hear and be heard with the Quantum Stream Microphone. Designed with JBL technology for perfect voice streaming, the dual capsule condenser mic and a 96kHz sampling rate make sure your voice is picked up clearly. The durable, premium metal design is both stylish and sturdy. Switch between a cardioid mic and an omnidirectional mic to suit your content. And, you can mount your microphone however you want with the universal mount.
Easy to control.
Voice monitoring with easy volume control allow you to conveniently control how you're heard either from your headphones, the mic or your PC. And, you can always tell when you're on mute with the RGB indicator light.
JBL QuantumENGINE compatibility.
JBL QuantumENGINE PC software allows you to adjust features like voice EQ, RGB color on the ring indicator, muting and unmuting the mic, polar pattern selection and more.
Reseñas
100% of reviewers recommend this product.
Awesome Purchase
Willrherhrill69 . 1 mes hace
Actually awesome, clear sound, nice shape, great button free touch mute with volume control.
jbl.com Publicado originalmente en jbl.com
Fantastic Mic For PS5
XxCaseyxXc . 8 meses hace
Sí, recomendaría este producto.
I use this as my streaming microphone on my PS5 and it sounds incredible. It was a seamless install and plug and play. I use my steelseries Nova Pro Wireless with GameDac as my headset and the JBL quantum stream microphone as my mic. In case you didn't know the knob on the front acts as the volume for your mic monitoring if you have a 3. 5mm plugged into it but also push it in once and that will allow you to control the mic gain aka sensitivity.