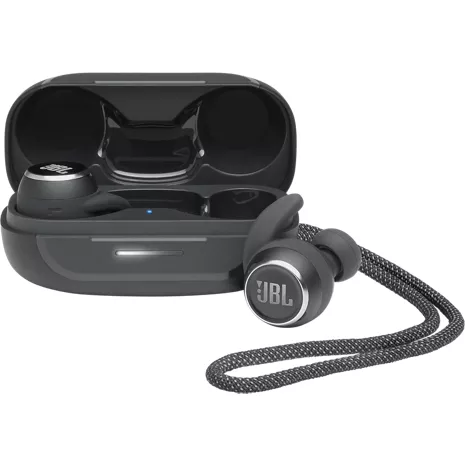 Obtenlo rápido
Selecciona las opciones de envío al pagar. Sujeto a elegibilidad.Detalles
Sumérgete en tus canciones favoritas con los Reflect Mini NC. Estos cómodos audífonos cuentan con aletas para un ajuste seguro y están sintonizados para ofrecer el sonido caraterístico de JBL. La cancelación activa de ruidos con Smart Ambient te permite concentrarte en tu podcast o lista de reproducción favorita y, cuando necesites estar atento a tu entorno, puedes activar el ruido de fondo. Dual Connect + Sync se empareja automáticamente con tu dispositivo y te permite usar cualquiera de los dos audífonos o ambos y obtener la misma experiencia auditiva. Y gracias a la certificación IPX7 de resistencia al sudor y al agua pueden seguir funcionando incluso si te sorprende una lluvia.¹

Batería de larga duración.
Disfruta una experiencia auditiva prolongada. Los audífonos tienen una batería de hasta 7 horas de duración con una sola carga y hasta 14 horas adicionales con el estuche de carga portátil.²

Fáciles de usar.
Los micrófonos izquierdo y derecho capturan tu voz para crear un sonido estéreo para tus llamadas con manos libres. Y, cuando te quites los audífonos, tu música quedará en espera gracias a la pausa automática.

Ve más allá con la aplicación.
Controla y personaliza tus audífonos con la aplicación gratuita. La aplicación My JBL Headphones te permite personalizar tu experiencia fácilmente.

¹ Certificación IPX7 de resistencia al agua. Se puede sumergir hasta 1 metro de profundidad por hasta 30 minutos.
² La duración de la batería y los ciclos de carga varían según el uso, las configuraciones y otros factores; los resultados reales variarán.

Reseñas
17% de las reseñas recomiendan este producto.
jadfasfsfshdfshfajh . 1 mes hace
only one speaker works. tried many things to fix but nothing will make the second speaker work.
Asistencia al cliente - 1 mes hace
We're here to help with your JBL Reflect Mini NC. We recommend cleaning the contact pins on the case and earbuds using a cotton swab with alcohol. These pins are sensitive to dust. Please ensure the pins are dried before placing them back on the case. If you need more help, we'd like to work with you directly. Please contact our customer support for assistance.
Great product
I've had it for six months now. One of the best headphones I ever bought. It is very comfortable in your ear. I don't vouch for a lot of stuff, but this product is solid.