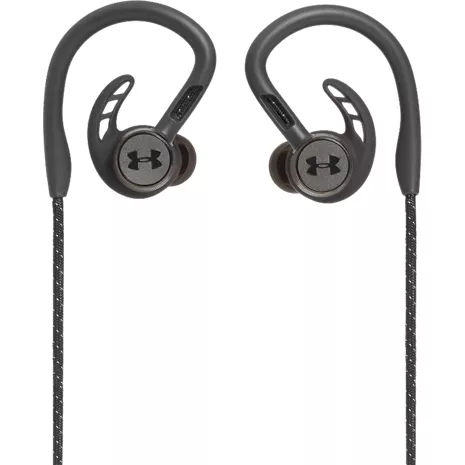 Pestaña Resumen seleccionada 1 de 4
Inicio de sección Resumen
Train harder, louder, and safer with the Under Armour Sport Wireless Pivot. Cable-free and built for portability, these aluminum earphones feature Sport Flex Fit ear tips and behind-the-ear hooks for maximum stability, even during your most strenuous workouts.
Thanks to JBL Charged Sound, you'll get the rich audio and heavy bass you'll need to stay motivated.
And with up to 9 hours of battery life from only 2 hours of charge,* the Sport Wireless Pivot gives you more than enough power to take on long hikes, commutes, trips to the gym and more.
High–performance design.
Breaking old records means breaking a sweat.
And that's why the Sport Wireless Pivot Earphones are IPX7-rated sweat- and waterproof. †
Stay in tune with your surroundings.
JBL's unique Bionic hearing technology lets you enjoy your music while still staying aware of what's going on around you.
TalkThru lowers your music volume and amplify your speech, making it easier to hold conversations without removing your earphones.
Switch to AmbientAware for a fuller, more immersive listening experience while still letting in ambient noise.
*Battery power consumption depends on factors such as network configuration, carrier network and signal strength.
†IPX7 waterproof rating.
Can be immersed in water up to 1 meter for up to 30 minutes.
Reseñas
84% of reviewers recommend this product.
Okay product
Sí, recomendaría este producto.
They aren't the most comfortable JBLs I've used.
Sound quality is good and the ambient noise feature that allows you to dim the music and enhance surrounding sound is a nice feature for the gym.
I have been trying to find the right selection of comfort for the in-ear rubber, but haven't figured it out yet. if you're buying these to talk on the phone, I would recommend another pair as no one can understand me clearly and the microphone rubs on your skin or shirt.
As far as gym use and value, they're great!
jbl.com Publicado originalmente en jbl.com
not good
No clip and bad connection.Not comfortable.Low quality sound.
Customer Support - 3 years ago
We appreciate the feedback you've provided to us.
We understand that our UA Sport Wireless Pivot didn't meet your expectations.
We're always looking for ways to improve so we'll make sure to submit your feedback to the right department.
jbl.com Publicado originalmente en jbl.com