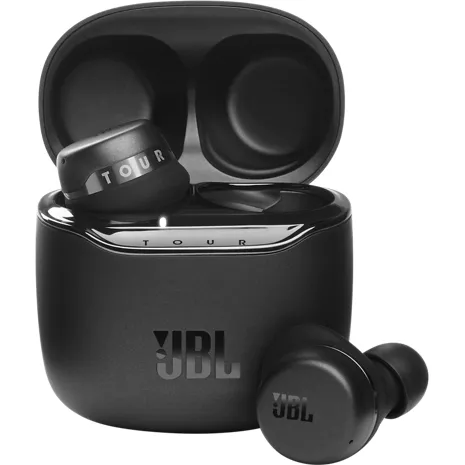 Pestaña Resumen seleccionada 1 de 4
Inicio de sección Resumen
Immerse yourself in your favorite tunes with the Tour Pro+ TWS Wireless Earbuds.
These comfortable earbuds feature 6.8mm drivers powered by JBL Pro Sound. 3-mic technology clearly transmits your voice when making and receiving calls.
Dual Connect + Sync allows you to quickly pair your earbuds to your device so you can start listening right away.
And, with hands-free voice control, you can use your digital assistant to stay connected while on the go.
Adaptive Noise Cancelling.
Tune out the outside world.
Adaptive Noise Cancelling minimizes distractions and Smart Ambient lets in enough sound so you can be aware of what s going on but still enjoy your music.
Go further with the app.
Focus on the tasks at hand with SilentNow.
Power off your headphones after a set period of time with Auto Off. All this and more can be controlled with the My JBL Headphones app.
Long-lasting battery.
Keep your music lasting longer with up to 32 hours of battery life.1 And, you can quickly recharge your earbuds to get an hour of playtime in minutes.¹
¹Battery life and charge cycles vary with use, settings, and other factors; actual results will vary.
Reseñas
86% of reviewers recommend this product.
I can't recommend this
I have AirPods Pro 2 and compared this Jbl I bought for 50$ with 75% off.
So I can't tell this Jbl can cost 199, no way.
Case even not closing good if you put headphones not right.
Sound…little better then listening from my phone directly
Too quiet
I placed in for a pair of earbuds that I had previously purchased and was very happy with but then had to send them back due to some technical issues, I brought basically the same pair for a way lower price, after my arrival date was pushed back I got them in and everything looked fine, packaging was good and secure and had all the things I needed.
I set them up and paired them with my phone and there was an immediate issues with the sound, they were wayyyyy too quiet, I could just barely hear them even with my phone volume all the way up, I did the basics on trying to delete the device and reconnect the Bluetooth and it still was too quiet, I looked up some YouTube videos and did all the things they suggested on fixing this problem (which tells me that this is a common issues) and nothing seemed to help, then after a little more digging I found that this stuff has problems with Apple Devices.
I was confused bc I've bought from this company before and loved my headphone while I had them (but then had to move on from when they broke).
All the other cool features worked on them but sound was too quiet
Customer Support - 1 month ago
We appreciate you taking the time to provide feedback on our JBL Tour Pro+ TWS.
To get the best audio response from the earbuds, please angle the ear tip slightly downward and gently twist the earbuds into your ear canal to achieve the best seal and secure fit with the earbuds.
The grille of the earbuds is also susceptible to the build-up of dust or dirt, which causes volume imbalance and issues.
We recommend periodically cleaning it using rubbing alcohol applied to a cotton swab to degrease it.
Additionally, you may try to carefully dip the tip of the earbuds into a solution of lukewarm tap water and a small amount of dish soap at a maximum depth of 1-2mm only.
After immersing it for 2-3 minutes, you may wipe or clean it with a small brush.
If you need more help, please contact our customer support for further assistance.
jbl.com Publicado originalmente en jbl.com