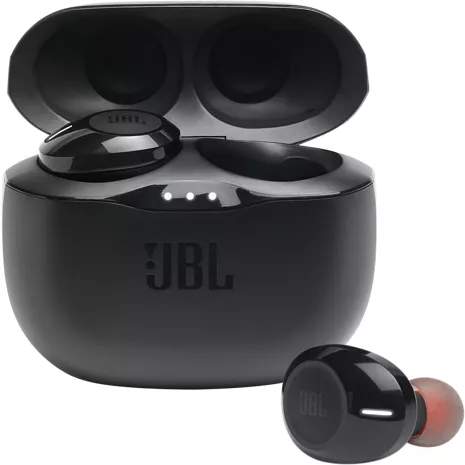 Disfruta de una experiencia de música inalámbrica con los audífonos intrauditivos totalmente inalámbricos Tune 125. Estos audífonos totalmente inalámbricos tienen sonido JBL Pure Bass para que disfrutes de una experiencia musical envolvente. Se emparejan rápidamente con tu dispositivo Android con un solo toque. Se pueden detectar otros dispositivos, incluso si no están emparejados.  Dual Connect ofrece una experiencia de audio excepcional con uno o los dos audífonos. Incluso puedes cargarlos de forma individual. Y con batería de hasta 32 horas de duración, la música seguirá reproduciéndose todo el día.¹

1. La duración de la batería y los ciclos de carga varían según el uso, la configuración y otros factores; los resultados reales varían.
Reseñas
51% de las reseñas recomiendan este producto.
Grade-A Design but Poor Software and Poorer Signal sssss
ChristianMc . 12 días hace
I purchased a set of these in December, hoping to try out the wireless experience, and I regret doing so. There are a number of bad features in this product, the keystone of which is the built-in crossfade that automatically normalizes audio input, often to the detriment of any song you try to play. In addition, the Bluetooth connection is quite poor and often results in one or both earbuds disconnecting for just long enough to interrupt a song and slowly fade it back in. The connection is so poor that cellular signals seem to interfere with it as well, rendering it almost unusable outside as it minces the audio. There are some things about the design that are genuinely great, such as the case design, but the hardware and software faults render it of worse quality than the generic JBL in-ear headphones I got packaged with an old Roku 5 years ago. At least they still function 100% of the time.
Asistencia al cliente - 11 días hace
We're here to help with your JBL Tune 125TWS. Please try to manually pair both earbuds by tapping the left and right buds for 5 seconds at the same time. If the earbuds are disconnecting from each other, please check that both of the earbuds have been charged to ensure continuous connection. Lastly, try to reset the earbuds to fix the issue. To reset it, place both earbuds in the charging case, while the case is charging and plugged into a power source. Press and hold the button on the Right pod for about 5 seconds. The LED on the pod will turn off and then turn back on again. A reset will wipe all previous settings and pairings, so it will be necessary to pair your headphones with your devices again. If you need more help, please contact our customer support.