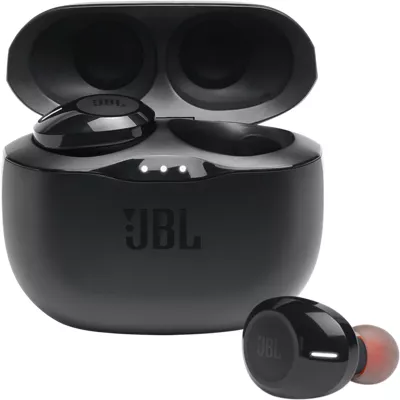 Disfruta de una experiencia de música inalámbrica con los audífonos intrauditivos totalmente inalámbricos Tune 125. Estos audífonos totalmente inalámbricos tienen sonido JBL Pure Bass para que disfrutes de una experiencia musical envolvente. Se emparejan rápidamente con tu dispositivo Android con un solo toque. Se pueden detectar otros dispositivos, incluso si no están emparejados.  Dual Connect ofrece una experiencia de audio excepcional con uno o los dos audífonos. Incluso puedes cargarlos de forma individual. Y con batería de hasta 32 horas de duración, la música seguirá reproduciéndose todo el día.¹
1. La duración de la batería y los ciclos de carga varían según el uso, la configuración y otros factores; los resultados reales varían.
Reseñas
250 reseñas
de las reseñas recomiendan este producto.
One Year Life Span
Short Life Span · 1 month ago
Sí, recomendaría este producto.
When I first purchased these earbuds the sound quality was crisp and I appreciated that the earbuds fit comfortably in my ears. However, after having these earbuds a little over a year, they completely died. Contacted the JBL manufacturer and provided the JBL serial number of my earbuds and learned my one-year warranty expired. The cost to fix its battery would be just as much, if not more, to replace them. Had to buy a whole new set. Hoping the JBL Pro Tour earbuds have much longer life; if not, at least for now they'll have a one-year warranty.
Worked for 3 months, now useless
SadBuyer1000 · 1 month ago
Worked for about 2 months and now the right earbud doesn't work anymore. Constantly shuts off when you turn it on. I read reviews that stated this before purchasing but thought I would take the chance. Huge regret. So sick of companies putting out products with known failure models. Shoddy engineering, shoddy product development. JBL should strive for a higher level of hardware excellence if they every want to be anything better than a budget Bose. If they hadnt stopped working, id give them a 3.5. Buds fall out of your ears even though I tried all tip sizes. Sound is OK
Customer Support - 1 month ago
Thank you for taking the time to provide us with your feedback. Please use a clean cotton swab slightly moistened with alcohol to clean the charging pins on your earbuds and in the charging case respectively. Then use a dry and soft cotton to rub down the dust and lint. The earbud should show a solid white light when charging correctly. If you need more help, please reach out to our Customer Support.