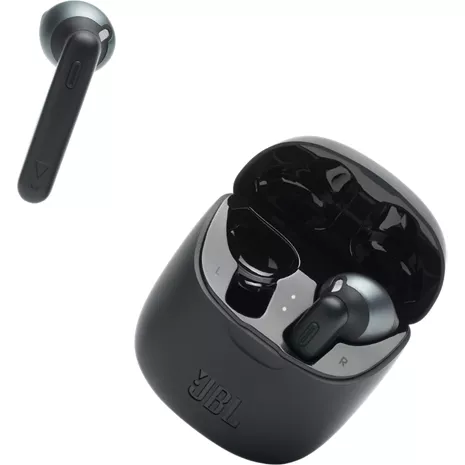 Pestaña Resumen seleccionada 1 de 4
Inicio de sección Resumen
Listen to your favorite tunes and take calls on the go with the TUNE 225TWS Wireless Headphones. Boost your bass with JBL s signature sound quality. The Truly Wireless design allows you to move through the world without wires getting in your way. Dual Connect allows you to use either the right bud, the left bud, or both to take calls or listen to music. And, thanks to Fast Pair, your earbuds will instantly connect to your Android device when you take them out of the case.
Long-term battery life.
The earbuds hold up to 5 hours of playtime in a single charge.1 And with the compact, ultra-portable charging case, you can expand that playtime to up to 25 hours.¹
¹Battery life and charge cycles vary with use, settings, and other factors; actual results will vary.
Reseñas
61% of reviewers recommend this product.
Disappointed
Thesecwere not noise cancelling and were not comfortable in my ears
My wife got me these headphone less than a year ago and almost right off the bat the left one stopped working and now im lucky if either one will connect to bluetooth. Would not recommend buying these headphones. The most expensive headphones i have ever had and the worst headphones i have ever had
Customer Support - 1 month ago
We appreciate your time in providing your feedback on our JBL Tune 225TWS. Please unpair or forget the JBL Tune 225TWS on your source device. Tap the button of both earbuds three times simultaneously to manually reconnect them. If manually pairing them fails to resolve the issue, please try to unpair them again and perform a factory reset. To reset the earbuds, plug the charging case into a power source and insert both earbuds. Press and hold the button on the right pod for about 5 seconds until the LED turns off and on again. Resetting the earbuds will wipe all of their previous pairings and settings, so it will be necessary to pair them again. If the issue continues, please contact our customer support for more assistance.
jbl.com Publicado originalmente en jbl.com