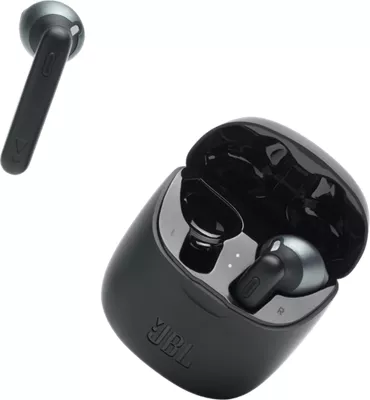 Escucha tus canciones favoritas y responde tus llamadas estés donde estés con los audífonos inalámbricos TUNE 225TWS. Haz que los graves suenen más fuerte con la calidad de sonido característica de JBL. El diseño Truly Wireless te permite moverte sin que los cables se interpongan en tu camino. Dual Connect te permite usar el audífono derecho, el izquierdo o ambos para recibir llamadas o escuchar música. Y, gracias a Fast Pair, los audífonos se conectan al instante a tu dispositivo Android cuando los sacas del estuche.

Batería de larga duración.
Los audífonos ofrecen hasta 5 horas de reproducción con una sola carga.1 Y con el estuche de carga compacto y ultraportátil, puedes prolongar ese tiempo de reproducción hasta 25 horas.¹

¹La duración de la batería y los ciclos de carga varían según el uso, las configuraciones y otros factores; los resultados reales variarán.
Reseñas
301 reseñas
de las reseñas recomiendan este producto.
Do not buy
Litterally the worse headphones ive owned. Worked right for a month or 2 but even at that they werent that loud. Shortly after that on 1 headphone would charge and stays charged for about 20mins before it dies. Theres no debris or anything in case nor are they dirty, just stopped working. A pair of dollar store headphones worked better.
Customer Support - 16 days ago
Gracias por habernos avisado sobre este asunto. We'd like to work with you directly to address the charging issues you're experiencing with your JBL Tune 225 TWS. If needed, we'd also like to get more information so we can check your options. Please contact our customer support service via our official website or toll-free hotline.
Like Bluetooth? You won't Anymore....
These earbuds are fine... when they work. Bluetooth Connectivity is a nightmare with these things. One earbud will randomly decide to go rogue and it'll no longer want to connect to my phone. Almost like each earbud is a completely independent device. It's frustrating. Love JBL speakers, not a fan of JBL earbuds. Buy something else.
Customer Support - 18 days ago
Thank you for taking the time to provide us with your feedback. It could be that the left and right earbud disconnects from each other. Press the button on each earbud three times to re-establish their connection. If you need more help, please reach out to our JBL Customer Support.