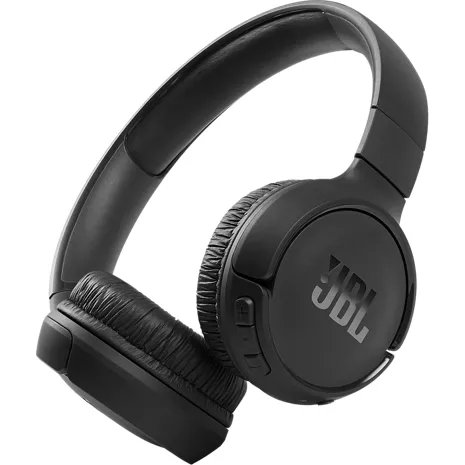 carrusel con 1 diapositivas
Immerse yourself in your favorite tunes with the Tune 510BT Headphones. These lightweight, comfortable headphones feature JBL Pure Bass Sound for a high-quality listening experience. The multi-point Bluetooth® connection allows you to effortlessly switch between devices so you never miss a call. And, with help from your voice assistant, you can easily take hands-free calls or control them with the buttons on your earcup.

Long lasting battery.
Outlast even your longest playlist with up to 40 hours of battery life.¹ And, if you need a quick charge, you can get up to 2 hours of battery life in 5 minutes.¹

¹ Battery life and charge cycles vary with use, settings, and other factors; actual results will vary.
Reseñas
37% of reviewers recommend this product.
Not the best
For context I got these as a christmas present, around five months ago. To start off they were really uncomfortable and hurt my ears for awhile. If you were them enough though it will stop hurting around two weeks after consistently wearing them, at least in my experience. If you are looking for noise cancelling headphones, I also wouldn't get these since you can hear everything when you have them on. I made the mistake of using these on an airplane. Another thing that sucks is that they don't come with a case. I usually only wear these at home, but there were occasions like being in an airport or at a crowded store where I've needed to wear these or bring them with me that having a case would've been useful. Lastly, they ended up breaking after 5 months of wearing them, at the point where the actual headphones connect to the over the head 'bar' type thing. I'm not entirely sure if its my fault or the headphones, but I don't workout with these or throw them around so I'm pretty sure it wasn't my fault. Even though I complained about these the whole review they are pretty decent for the price. I definitely wouldn't recommend getting them if you can afford higher quality ones, but I did somewhat enjoy them for the few months they worked.
Customer Support - 8 days ago
Thanks for sharing your feedback on our JBL Tune 510BT. Please note that this product comes with a one-year warranty, please reach out to our customer support via our official website or toll-free hotline. We're here to help.
jbl.com Publicado originalmente en jbl.com
Good value, but uncomfortable
They're no doubt a good value for the price, and look sleek and stylish. The bluetooth connection is also very convenient. But, I have a pretty small head, and these hurt to use after 10 minutes. I'm constantly adjusting them into a different position that still hurts, but just in a different way. If you're debating between these and a fancy boutique brand, I'd pay the extra money. But if you're debating whether to get these at all, and spending more isn't an option for you, I'd go ahead and get them. I have no complaints about the sound quality or battery life.
Customer Support - 1 month ago
We appreciate your feedback on our JBL Tune 510BT. We're sorry to hear that it didn't meet your expectations. We'll make sure to share your feedback with the appropriate team. If you have other questions or concerns, please contact our customer support.
jbl.com Publicado originalmente en jbl.com