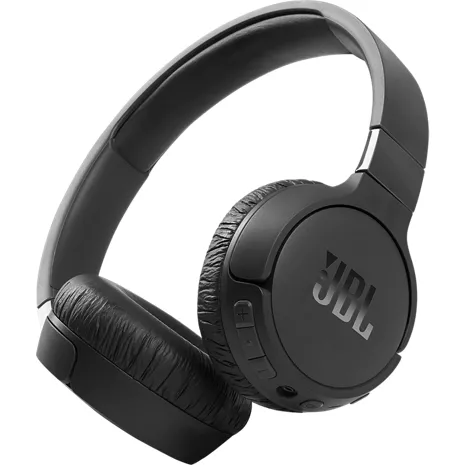 Devoluciones gratuitas en el plazo de 30 días.Detalles
Sumergirte en tus canciones favoritas con los audífonos inalámbricos Tune 660BTNC. Estos audífonos livianos y cómodos tienen diseño plegable para ofrecer un almacenamiento ordenado. La cancelación activa de ruidos te permite bloquear el ruido de fondo, para que puedas centrarte en la música. El sonido JBL Pure Bass ofrece un audio potente e increíble. La conexión Bluetooth® te permite hacer streaming de tus canciones favoritas de forma móvil sin cables. Y con las llamadas manos libres, puedes administrar llamadas con facilidad sin levantar un dedo. 

Batería de larga duración.
Con batería de hasta 12 horas de duración, estos audífonos están diseñados para reproducir toda tu lista de reproducción.1 Y puedes recargar con rapidez tus audífonos con un intervalo de carga de 2 horas.¹

¹La duración de la batería y los ciclos de carga varían según el uso, las configuraciones y otros factores; los resultados reales variarán.
Reseñas
57% de las reseñas recomiendan este producto.
Nice headphones, but awful cable
I got these headphones for Christmas and love them! I use them every day. Aux cable included is a bit thin and cheap but they're nice. A minor issue I have with them is that the JBL Headphones app doesn't recognize them, but otherwise they're really nice headphones.
NOTHING NEW JUST A WASTE OF MONEY
First time buying jbl products this 660nc headphones sound good but not great as others. A bit uncomfortable but annoying that the right cup doesn't seal well at the bottom, I wish I could return them but I CAN'T because nothing tells you that you cannot return it when you are buying it. Now I'm stuck with them what a waste of money. PEOPLE DON'T BUY PERSONALIZED UNLESS YOU WANT TO KEEP THEM
Asistencia al cliente - 2 meses hace
Thank you for taking the time to provide us with your feedback on our JBL Live 660NC. Siempre estamos buscando maneras de mejorar. We'll make sure to submit your feedback to the appropriate department.