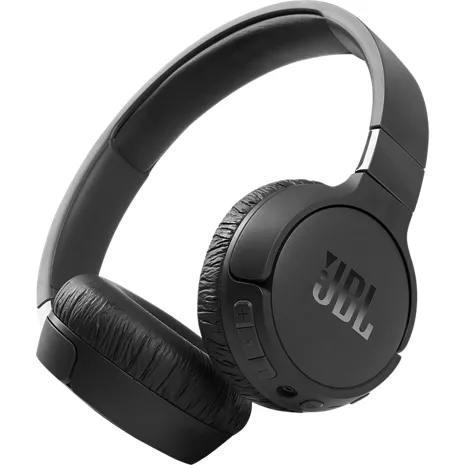 Pestaña Resumen seleccionada 1 de 4
Inicio de sección Resumen
Immerse yourself in your favorite tunes with the Tune 660BTNC Wireless Headphones. These lightweight comfortable headphones have a foldable design for neat storage. Active Noise Cancelling allows you to tune out background noise so you can focus on the music. JBL Pure Bass Sound provides a rich, impressive sound experience. The Bluetooth® connection allows you to wirelessly stream your favorite tunes without wires or cords. And, with hands-free calls, you can easily manage calls without lifting a finger.
Long-lasting battery.
With up to 12 hours of battery life, these headphones are designed to outlast your favorite playlist.1 And, you can quickly recharge your headphones with a 2-hour charging break.¹
¹Battery life and charge cycles vary with use, settings, and other factors; actual results will vary.
Reseñas
94% of reviewers recommend this product.
Uncomfortable
This is NOT what I expected it to be. The sound quality is pretty good, but when it comes to comfort it's TERRIBLE. After 30 minutes of use my ear cups started to feel a lot of pain. That's because of this part of headphones where my ears go in. That cushion is soft but inside is Not. Ear cups touches the bottom .
Customer Support - 9 days ago
We appreciate you for sharing your feedback. This model has an adjustable headband to fit most head sizes comfortably. We understand our JBL Live 660NC didn't meet your expectations in terms of their comfortability. We are committed to providing an exceptional user experience, and we'll make sure to submit your feedback to the appropriate team.
jbl.com Publicado originalmente en jbl.com
As Advertised - I'm a Happy Camper
Mr C Experience . 22 días hace
Pretty happy with my LIVE660s. They're light, pretty comfortable for what I need (casual listening and for meetings) and were pretty easy to start up initially even with out referring to instructions. Sound quality is about expected with decent base and mid-high range tones. They do fit a tad snugly - something you'd want to consider if you wear glasses but it's not been a huge issue for me. Mic'ed calls seem to be fine for those on the receiving end and bluetooth connections have been pretty quick - I do like the autpause feature if I remove the headset too. ANC seems pretty decent - I'll have my first true test when flying overseas in a few weeks. On the whole, I'm a happy camper with these + hey, they're customized - can't beat that.
jbl.com Publicado originalmente en jbl.com