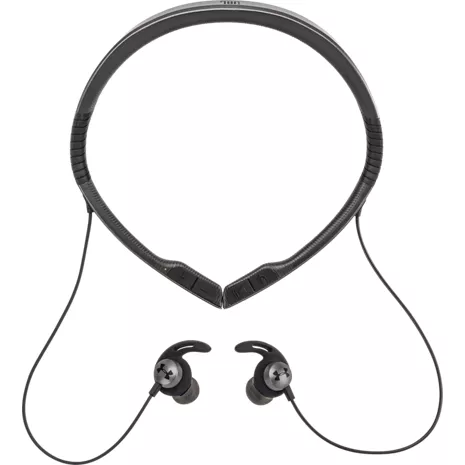 Pestaña Resumen seleccionada 1 de 4
Inicio de sección Resumen
No matter your routine, Under Armour® Sport Wireless Flex headphones adjust to provide you with a comfortable and secure all-day fit.
Experience powerful JBL Charged Sound and rich bass for keeping you in the zone, whether you're at the gym, on a run or practicing for your next game.
A wireless Bluetooth connection gives you a cable-free, zero-distraction way to enjoy your music and stream your favorite podcasts.
Flex Zones.
An always-ready neckband stays secure during workouts and loosens while you're taking a break.
Sport Wireless Flex headphones adjust according to your activities, allowing for a comfortable all-day fit.
Fuel for your day.
Create the soundtrack for your next hike, camping trip or jog with headphones that last for up 11+ hours per charge.* With Speed Charge, get one hour of playtime from just five minutes of charge.
Wear it your way.
Sport Wireless Flex headphones feature magnetic buds for easy storage and portability.
And you can pick between winged and wingless tips for a more optimized fit.
RunSafe™ LED lights.
Improve your visibility during your next nighttime jog.
Pick from one of 3 flashing modes and let the Sport Wireless Flex's bright white safety lights alert nearby drivers of your location.
Break a sweat.
A rugged and durable design protects the Sports Wireless Flex from moisture, sweat and everyday damage.†
Stay in control.
Switch songs, adjust your volume and more using 4-button controls with highly-tactile feedback.
An optimized multifunction lets you mute calls and activate Siri® or Google Now™ with a touch.
*Battery power consumption depends on factors such as network configuration, carrier network and, signal strength.
†IPx5–rated water resistance protects against sweat, rain and spills.
Reseñas
70% of reviewers recommend this product.
Very disappointed
I bought these 6 months ago and have never been so unhappy with a set of earbuds.
The only good things about them are the battery life and the sound quality.
For 3 months I've only had use of the right earbud.
They don't stay balanced and fall off often. the pieces that bend on each side poke me in the neck constantly.
Just not the quality I'm used to from JBL.
Customer Support - 4 years ago
Thanks for the review, we appreciate the feedback you've provided to us.
We understand that our JBL UA Sport Wireless Flex did not meet your expectations.
We're always looking for ways to improve so we'll make sure to submit your feedback to the right department.
jbl.com Publicado originalmente en jbl.com
Love this headset
Sí, recomendaría este producto.
Crystal clear long lasting charge.
Me and hubby both got on.
We love them. No complaints here.
jbl.com Publicado originalmente en jbl.com