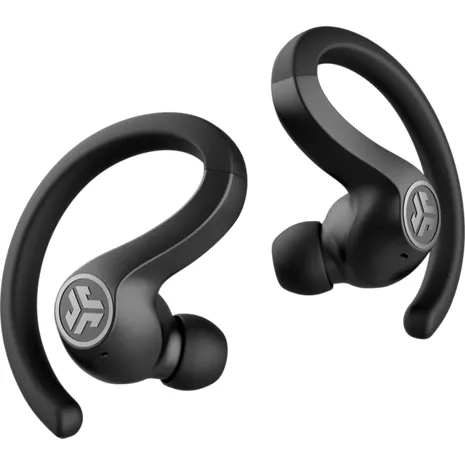 Pestaña Resumen seleccionada 1 de 4
Inicio de sección Resumen
Immerse yourself in your favorite workout playlist with the Air Sport True Wireless Earbuds. These ergonomic, Bluetooth® earbuds with over-ear hooks and Cloud Foam™ ear tips provide long term comfort, no matter what workouts are on your agenda. Custom EQ3 sound settings provide clear, bold sound. They automatically turn on and connect when you take them out of the charging case. And, with an IP66 sweat resistance rating, you can get sweaty and stay active without worrying about it damaging your earbuds.†
Stay aware.
Be Aware Audio customizes your listening experience based on what you're doing. Turn it on when you want to completely immerse yourself in the music. Turn it off when you want to let ambient noise in and stay aware of what's happening around you.
Stay charged.
These portable buds have a battery life of up to 6 hours. Bring along your charging case for up to 34 extra hours of playtime.*
*Battery life and charge cycles vary with use, settings, and other factors; actual results will vary.
†IP66 waterproof rating. Able to protect against powerful water jets.
Reseñas
70% of reviewers recommend this product.
Terrible… horrendous design.. they won't last long
Fit is terrible, slides out of ears while running. Touch controls are terrible, 90% of the time you activate something when you're actually pushing the buds back in your ears(immediate disable recommended). The bud for your left ear is set on the right of the case and the right ear is on the left… I mean seriously… but the worst by far is that the connections for charging are on the side of your skin… so they are in contact with your skin and especially your sweat. This eventually corrodes the contact points to where they no longer can be cleaned and thus no longer can be charged. This is a problem that all earbuds have.. but still… I understand putting these charging points on the outside of the earbuds is not as aesthetically pleasing …. But it would be infinitely better and they would set themselves apart from all competition.
jlabaudio.com Publicado originalmente en jlabaudio.com
Light weight, secure fit, and comfortable
RowlerrSunser . 4 días hace
Very comfortable. I've own many true wireless ear buds and headphones and this is the most comfortable form factor. Each piece weighs nothing. Sounds isn't the priority with this set. They sound fine to me. This is what I will take with me on my 10+ hrs flight to Japan instead of the Galaxy buds 2 which had ANC but does pop out in 1 ear and cause fatigue after long wear.
jlabaudio.com Publicado originalmente en jlabaudio.com