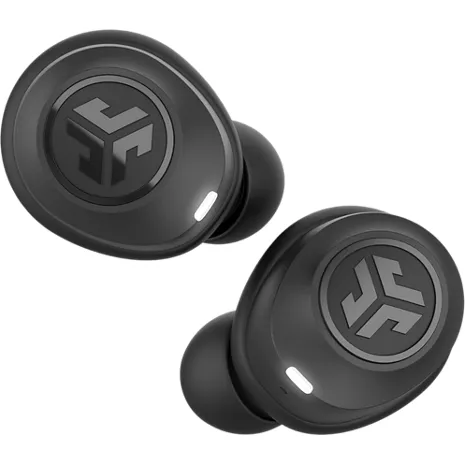 This item is currently only available for Express Pickup. 
Select a store to continue.
Free returns within 30 days.Details
Pestaña Resumen seleccionada 1 de 4
Inicio de sección Resumen
Immerse yourself in a high-quality musical experience with the Air True Wireless Earbuds. These Bluetooth® earbuds have 3 EQ sound settings to make the most of every playlist - JLAB Signature, Balanced and Bass Boost. They automatically turn on and connect to your device when you take them out of the case. And with IP55 sweat resistance, you don't have to worry about sweat or the weather damaging your earbuds.†
Keep the music playing.
The Air True Wireless Earbuds have up to 6 hours of battery life per charge. Use the wireless charging case for up to 18 extra hours of listening.*
*Battery life and charge cycles vary with use, settings, and other factors; actual results will vary.
†IP55-rated. Protection against limited dust ingress and from low-pressure water jets from any direction.
Reseñas
79% of reviewers recommend this product.
Bombastic buds, so, so worth it!
These are my second pair...ish. I bought my first almost two years ago and used so, so much. I mean for studying, walking, commuting, traveling, cleaning and running. A lot of running. And they survived for longer than a year until one of the buds misteriously stopped working. As the guarantee was still ongoing (it lasts 2 years) I wrote JLab and they gave me a discount code to get the replacement pair. The process lasted around 5 days and I got the Buds fast and didn't have to pay anything. So yeah, they did stop working, but I now have a new pair and I really cannot go back to any other buds I had to use in the meantime: these connect immediately to any paired device, the bass is good, volume is great, the controls are very intuitive, the charge lasts super long, the case is good quality, and the buds don't fall off (even when dancing or running!). It's a 10000000/10 product. I really hope these last longer than the previous pair. But to be honest, even if they don't, these past two years of amazing buds are well worth the (back then) ~35€.
jlabaudio.com Publicado originalmente en jlabaudio.com
Good noise cancelling. Not comfortable.
Not very comfortable to wear. But they do have good noise canceling abilities.
customer service - 4 days ago
So sorry to hear of the discomfort that you're experiencing. If you've tried all the included ear tip sizes and they are still hurting, we always have options. An email has been sent your way via support@jlab.com we'll have you up and running comfortably in no time.
jlabaudio.com Publicado originalmente en jlabaudio.com