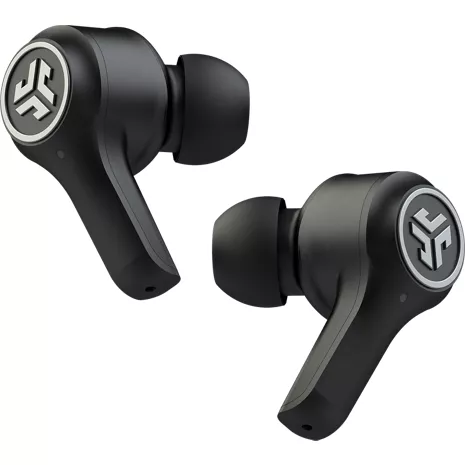 Pestaña Resumen seleccionada 1 de 4
Inicio de sección Resumen
Build a distraction-free listening experience with the Epic Air True Wireless Earbuds.
With 2 levels of Active Noise Cancellation, these Bluetooth earbuds tune out background noise to let you enjoy your music.
Built with 5 microphones, they zero in on your voice to make sure that you're always heard.
IR sensors control auto play and pause when you take the earbuds out of your ear, while the touch sensors allow you to take calls and change songs with a tap of your finger.
And, dual connect allows each earbud to have their own connection, meaning you can use them independently.
All-day listening.
With the Epic Air True Wireless Earbuds, you get up to 7 hours of playtime on a single charge.
The included charging case also carries 3 additional charges for up to 30 hours of playtime.¹
Sweat-proof design.
Epic Air True Wireless Earbuds have an IP55 water resistance rating, which means they will keep working, even through your most intense workout.²
1. Battery life and charge cycles vary with use, settings, and other factors; actual results will vary.
2. IP55-rated. Protection against limited dust ingress and from low-pressure water jets from any direction.
E
Reseñas
82% of reviewers recommend this product.
Broken out of the box
I bought these in early September.
Haven't been able to use them for the few weeks I've had them because the buds and case will not fully charge.
I've tried many trouble shooting with no luck.
I messages support about it, which said they would get back to me within 48 hours and they have yet to do so.
I really enjoy my other jlab headphones so I hope I'm able to get a new, fully functioning pair soon
jlab customer support - 2 months ago
We are so very sorry to hear that : ( our sincere apologies.
We will get those replaced for you with the quickness under our two year hassle free warranty.
Instructions have been sent your way.
We'll have you back up and running in no time.
jlabaudio.com Publicado originalmente en jlabaudio.com
Ok for music, bad for calling. App is broken
rockerjockey . 2 meses hace
App is completely non functional, I had to use an archived APK of an earlier release to get any function.
The microphone for phone calls is horrible unless you shout.
jlab customer support - 2 months ago
So sorry to hear of all of the troubles : ( sounds like a bad set.
The mic should be nice and clear.
The application has also been updated and should be functional currently.
We'll get those replaced for you under our fast, free two year warranty.
Instructions have been sent your way.
We'll have you back up and running in no time : )
jlabaudio.com Publicado originalmente en jlabaudio.com