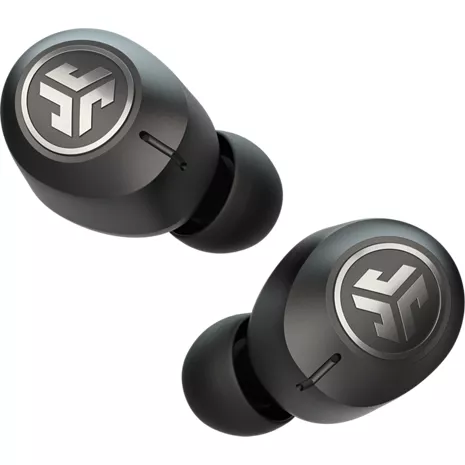 carrusel con 1 diapositivas
Immerse yourself in your favorite tunes with the JBuds Air ANC True Wireless Earbuds. These compact, comfortable Bluetooth® earbuds feature Smart Active Noise Cancellation so you can drown out the background noise and focus on the music. 3 EQ sound settings allow you to customize your listening experience. Super-low latency movie mode ensures your sound and picture are synchronized. Listen through a single earbud or both for the same sound with Dual Connect. Touch sensors allow you to skip, play and pause with ease. With up to 40 hours of playtime, your battery will outlast your longest playlist.¹ And, with an IP55 sweat and water-resistant rating, your wireless earbuds can stand up to your toughest workout.²

¹Battery life and charge cycles vary with use, settings, and other factors; actual results will vary.
²IP55-rated. Protection against limited dust ingress and from low-pressure water jets from any direction.
Reseñas
31% of reviewers recommend this product.
Good earbuds, but wish they had two more features.
I received a pair of expensive ANC earbuds that I loved as a Christmas present and used them for about three weeks before they were stolen from me. Being on SS disability I couldn't substantiate spending the money to buy another pair, so I started searching for a less expensive replacement. After a few months of on and off searching I had narrowed my choices down to two pair. I ended up going with the JLab JBuds Air ANC because of the two year warranty. They are very good earbuds, especially for the price, but they lack two features that the expensive pair had that made those great earbuds; the ability to automatically turn off ANC when I spoke, and shutting off when I removed them from my ears. If I have ANC turned on and someone comes up to me and starts talking, I have to physically turn off ANC to be able to have a conversation with them. Because of that, I tend to just leave them in ANC off or be aware mode and put up with the background noise. When I take these off and I'm not going to put them in the charge case, I have to turn off Bluetooth on device the earbuds are paired with first, and then a few minutes later the turn off automatically. When I put them back in, I have to turn Bluetooth back on on the device and then reconnect them. Since they are considerably less expensive than the set that was stolen from me, I can accept that these ear buds do not have these features, as I imagine those technologies would increase the price considerably which would keep them from being a good pair of inexpensive true wireless ANC earbuds.
jlabaudio.com Publicado originalmente el jlabaudio.com