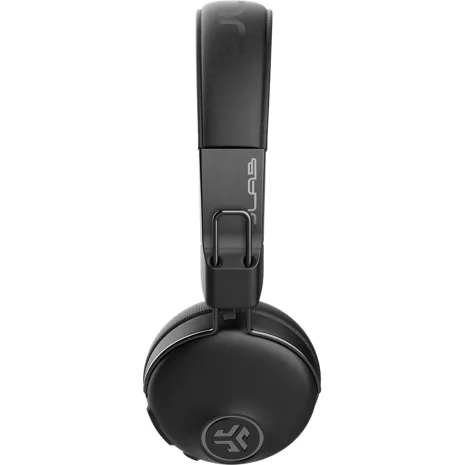 Pestaña Resumen seleccionada 1 de 4
Inicio de sección Resumen
Listen to your favorite tunes in comfort and free of distractions with the new JLAB Studio ANC Wireless On Ear Headphones.
Enjoy up to 34+ hours of listening time or up to 28+ hours when using Active Noise Cancellation (ANC).* Turn on ANC to eliminate all the unwanted noises around you.
Studio ANC Wireless On Ear Headphones can fold up to fit into the palm of your hand, making them the perfect travel buddy.
Choose how you listen.
Connect to your Bluetooth device from up to 30 feet away or use the external AUX cord for endless playtime if you're running low on battery or on-the-go without a charger.
The perfect fit.
Cloud Foam™ earcups and ultra-plush faux leather provide endless comfort all day long.
The adjustable hinges can be customized to fit your head for all types of travel, commutes and movement.
Distraction-free.
Two microphones collect and neutralize background noise, while the third targets your voice for calls, so all your conversations are clear and crisp.
*Battery life and charge cycles vary with use, settings, and other factors; actual results will vary.
Reseñas
73% of reviewers recommend this product.
Exceptional value for money!
I bought this product a couple of months back largely for travel but have found that I'm using them more and more during my every day listening.
The build quality seems very good and the sound quality is excellent.
The ANC is very good.
It does let in some ambient noise, but they do a fantastic job for my purpose.
jlabaudio.com Publicado originalmente en jlabaudio.com
I bought these the first month they came out.
I still have them and love them.
I use them everyday they work awesome.
The charge is starting not last as long but what do u expect batteries don't last forever.
I have no complaints other then I haven't gotten to try any of the newer sets of headphones because these r still working great.
Better then beats ever did, lasted longer and sound better then skullcandies did.
Just wish they would wear out so I can get a new pair....😁😆.... Not really.
I'm not looking forward to the the they die on me...... TYVM JLAB GREAT WORK!!!
jlabaudio.com Publicado originalmente en jlabaudio.com