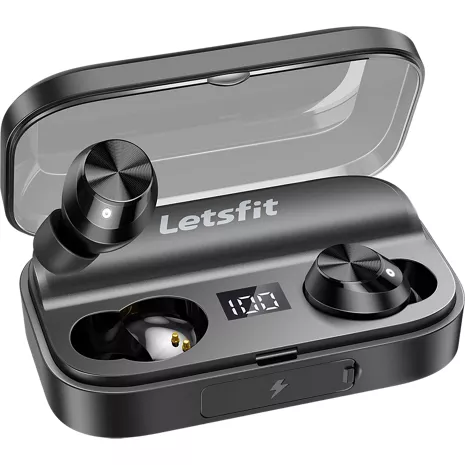 Devoluciones gratuitas en el plazo de 30 días.Detalles
Sumérgete en tu mejor lista de reproducción para ejercitar con los audífonos inalámbricos T22 True Wireless. Estos audífonos cómodos tienen sonido premium para disfrutar de la mejor música. Estos audífonos pueden soportar los entrenamientos más intensos gracias a su diseño resistente al sudor. La tecnología de sincronización Mulita Cast te permite alternar entre el audífono derecho e izquierdo sin seguir ningún paso de emparejamiento adicional y sin perder la señal. Además, el estuche de carga admite carga inalámbrica y alámbrica para ofrecer más opciones convenientes de carga.

Batería de larga duración.
Los audífonos tienen una capacidad de hasta 5 horas de reproducción con una sola carga.1 Con el estuche de carga, puedes sumar 1 horas adicionales y también se puede usar como una batería externa.¹

¹La duración de la batería y los ciclos de carga varían según el uso, las configuraciones y otros factores; los resultados reales variarán.
Reseñas
43% de las reseñas recomiendan este producto.
These are great all around head phones sssss
Sí, recomendaría este producto.
So I see other reviews complaining about the headphones not fitting. They fit tight. Put them in your ear with the piece you are holding facing up. Then slowly twist until the piece you are holding rest against the back inside of your ear. This position gives you the best sound quality while using. I have been using these headphones for over 2 years. Same pair. I recently purchased a more expensive pair after losing one of my headphones. I'm now searching the internet for a second pair of the letsfit T22 (Exact model I had before) and Verizon is the only place I've found them and I'm so relieved. Let me tell you why I want these over the similar $100 pair I just bought. 1. The charging case - It has a digital display that shows you what percent charge the case has not a 3 or 4 blinking light. The amount of times this case will charge your headphones before needing to be plugged in amazing. I only charge my case every 2-3 weeks with heavy usage (full dead battery on headphones 3-4 a week) and it's not because the case is out of juice. It will still have 25% left. 2. Headphone features - They talk to me rather than beeping at me. When I pull the headphones out of the case I hear "Bluetooth connected" not "beeeep" when I get a call I hear "Incoming call" not "beeeeep" when the battery is low im told "Battery low, please charge" not, you guessed it "beeep". I never have to guess what I'm being beeped at about. A voice clearly tells me what is going on. When I put my headphones in the case they automatically disconnect. I take them out of the case they immediately connect. Even if im on a Bluetooth call in my truck or listening to something on my screen. it instantly moves over to my headphones. I can pause and skip music touching the headphones. One tap pause. Double tap skips song. They fit tight. Other headphones try to work their way out of my ear. These stay where I put them and never slip out. They fit so good if I try to wear them 6-8 hours (They charge quick so I toss them in the charger while punmping gas and bathroom breaks on road trips) tightened all the way they will make my ears sore. So I loosen them up in my ear a quarter turn and they are fine. Also after 2 years they look like they did when I bought them. They've even been through the washer and dryer before 😅 (Just the loose headphones without case) 3. Sound quality - The sound is great. Music in the $100 headphones sounded about the same. It might have been a little more crisp in my Harman Kardon heapones or it could have just been me thinking that because how much I paid for them. Phones calls have never been an issue. I use them for calls all the time. If I'm trying to speak quietly while using the headphones people ask me to repeat things. For the money you can't beat them. I bought a pair for my wife because I loved mine so much. One of hers stopped working after over a year. But she does 1.5 hours of heavy workout every morning and runs 3-5 miles a day (all while wearing these headphones) and she loves them. Con - My only real complaint is when wearing them if I turn my bluetooth off for awhile or walk out of range for a period of time they shut off to save battery and do not come back on without putting them in the case and pulling them out again. This is required to reconnect. So if you are somewhere you can't take the case don't let them disconnect for too long. I hope this helps some people when making their headphone purchase. Gracias.
Piece of crap!! sssss
I have used these ear buds 20 times and now one of them will not charge.