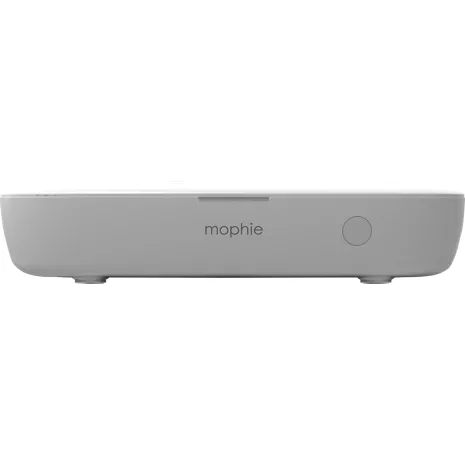 Pestaña Resumen seleccionada 1 de 4
Inicio de sección Resumen
Step up your device cleaning with the mophie UV sanitizer with wireless charger. Kill the most common surface bacteria on your phone without using damaging heat, liquid, or chemicals.* Four UV-C bulbs sanitize your phone, killing up to 99.99% of the most common bacteria on all the hardest to reach surfaces.* Sanitize other small devices like keys, remote controls and earbuds in just 5 minutes without loud buzzing or fans.†
Wireless charging.
The wireless charging pad, located on the lid, is compatible with virtually any Qi-enabled device. Charge 1 device with up to 10W of power while you sanitize the other.
*Tested by 3rd party to ISO testing standards against E. coli and staph. Antibacterial technology is for your phone and other similar devices inserted into the device; it does not directly protect the user from exposure to bacteria or provide additional health benefits.
†Based on third party testing results using a brand new UV Sanitizer.
Reseñas
65% of reviewers recommend this product.
Medical Researcher says this unit is Peace of Mind
Our cell phones cannot be conventionally cleaned enough with the amount of handling and with todays viral and bacterial threats - this is a new state that in my opinion is not going away (I am a medical professional and published medical researcher). The UV Sanitizer is a fantastic little unit that beeps to signal that cleaning is complete. If I could make one change it would be to make the cavity a little deeper. All cell phones will fit inside but more remotes for TVs and other devices would fit if it were a little larger.
zagg.com Publicado originalmente en zagg.com
Violet Rays
Sí, recomendaría este producto.
I am so excited to finally have a U V phone sanitizer and more excited that it is also a wireless charger. The case is compact and attractive, it does not take up a lot of space either.