carrusel con 1 diapositivas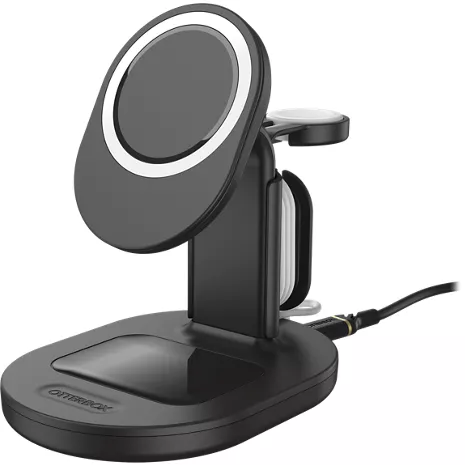 carrusel con 1 diapositivas
Keep your devices fully charged with the 3-in-1 Charging Station with MagSafe. This durable charging stand features a streamlined design that fits neatly on a table or desk. The no-slip weighted base keeps your stand in place as you attach and remove your phone. Seamless magnetic alignment and attachment power MagSafe phones in both portrait and landscape modes so that you can still use your phone as it charges. And, the glow-in-the-dark ring makes it easy to locate your stand in the dark.

3-in-1 charging.
Charge your phone, AirPods and Apple Watch simultaneously to save time. Charge your AirPods on the base charging unit and integrate your Apple Watch charger (sold separately) with ease.
Reseñas
37% of reviewers recommend this product.
Worthless
Kind of worthless without 2 cords plugged in.
OtterBox Customer Support - 10 days ago
Hey, Josh! We apologize if the 3-in-1 Charging Station with MagSafe isn't quite what you were hoping for. You will need to provide your own Apple Watch charger for this product, as that piece is not included, but the only other cord needed would be the power cord for the Charging Station. We're sorry if this is any inconvenience to you, but we'll be sure to pass your feedback along to our design team. Please feel free to give our customer service team a call at 1-855-688-7269 with any questions or if you'd like to chat about this some more.

Cheers,
OtterBox Customer Support