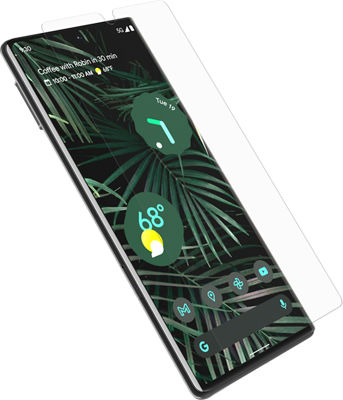 Evita que tu pantalla se raye o rompa con el protector de pantalla Clearly Protected Film para el Pixel 6 Pro. Esta película resistente a los rayones ofrece protección de confianza contra rayones, rasguños y marcas. La protección contra rayones garantiza una gran claridad de tu pantalla. Y funciona con la mayoría de las carcasas para proteger todo tu dispositivo.

Fácil de colocar.
La herramienta de aplicación incluida te permite colocar  el protector de pantalla fácilmente, sin que queden burbujas ni protuberancias.
Reseñas
20 reseñas
de las reseñas recomiendan este producto.
Peeling edges
This is hard enough putting on following the instructions. But 1 week after the bottom edge is peeling loose. As is the sides. For a curved screen this does not hold up. I folllowed instructions to the letter even making sure clean and lining it up as instructed. Still the bottom edge is peeling and the sides are soon to follow.
OtterBox Customer Support - 17 days ago
We've no doubt you accurately followed the installation instructions, and we're sorry that somehow wasn't enough to prevent the rapid struggles with the Clearly Protected Film Screen Protector. The good news is we're feeling confident that this is just a one-off and that a brand-new warranty replacement will give you no such trouble with adhesion going forward.

Just ping our handy Otters at 1-855-688-7269 or through the following link and we'll be glad to help get one in the works to smooth things out for the long haul!

https://www.otterbox.com/en-us/warranty-begin

Saludos,
El equipo del Servicio al cliente de OtterBox
UGH... Problems with applying this product to the phone are real
I am having the same problem with applying this protector to my phone... It's truly a struggle. Now there are bubbles all over because I had to keep taking it off to reapply...
OtterBox Customer Support - 20 days ago
Hola, there!

We're sorry to hear that you had some trouble with bubbles on your Clearly Protected Film screen protector! We appreciate your feedback, and we'll be sure to get it passed up the ladder to our design team. In the meantime, we have a stellar warranty, so we'd be more than happy to get you taken care of with a replacement. Please don't hesitate to reach out to us at 1-855-688-7269, and we can get your claim started.

Saludos,
El equipo del Servicio al cliente de OtterBox