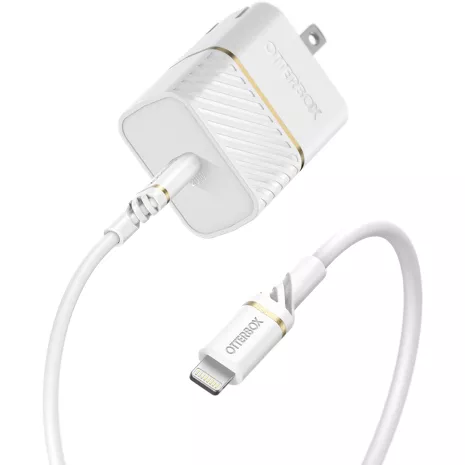 This item is currently only available for Express Pickup. 
Select a store to continue.
Free returns within 30 days.Details
Pestaña Resumen seleccionada 1 de 4
Inicio de sección Resumen
Keep your device fully charged with the Fast Charge Wall Charger Kit with Lighting to USB-C Cable, 20W. This convenient charging kit features a Fast Charge Wall Charger and Fast Charge Cable so you have everything you need in one place. This compact, portable charger features foldable prongs to fit neatly in a pocket or purse. It's drop-tested and wrapped in a tough exterior for ultra durability. With USB Power Delivery fast charging technology, efficient charging powers your smartphone up to 58% in 30 minutes.¹ And with a 3,000 bend lifespan, the flexible charging cable is designed to last.
¹Based on iPhone 12 and iPad (8th Generation).
Reseñas
76% of reviewers recommend this product.
Fragile
Sí, recomendaría este producto.
charges the phone very quickly .. however the reason why I didn't give it 5 stars is because I bought this item twice and both times the part that goes into the phone broke off pretty easily so be extra careful other than that great product
Ask before you order.
I was expecting an APPLE charger/cable. What i received was an off brand which sparked when plugged into the wall socket. The charger was making noise when plugged into another wall outlet. I don't trust it and won't use it again. The usb-c cable is useful. Come on Verizon!!
OtterBox Customer Support - 5 months ago
Hey there, Bob! So sorry to hear the Fast Charge Wall Charger Kit wasn't quite what you were hoping for and for any trouble you've experienced with that product so far. This is definitely surprising to hear though. We'd like to dig a bit deeper into things in order to better understand what's going on here. Please give our customer service team a call at 1-855-688-7269 and they'd be happy to troubleshoot things and help find the best path forward for you.
Best,
OtterBox Customer Support