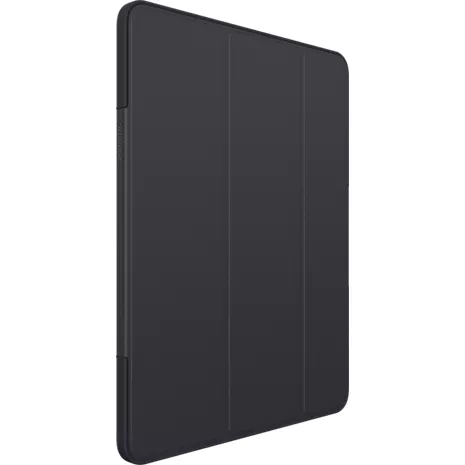 Pestaña Resumen seleccionada 1 de 4
Inicio de sección Resumen
Protect your tablet from drops, bumps and dings with the Symmetry 360 Elite Case for iPad Pro 12.9-inch (6th Gen)/(5th Gen). This sleek, elegant clear case features a scratch-resistant design that shows off your tablet.
The folio provides additional protection for your screen while in transit, and the built-in magnets activate sleep and wake modes.
A multi-position stand allows for hands-free use.
And, there's discrete Apple Pencil storage so you can keep your tablet accessories with your tablet.
OtterBox tough.
OtterBox puts their cases through rigorous testing.
OtterBox Certified Drop+ Protection is backed by 24+ tests and 238+ hours of testing so you know you are getting a tough-as-nails case.¹
¹Based on independent testing.
Reseñas
0% of reviewers recommend this product.
Poor implementation of a standing case
This is the first Otterbox product I've owned where I felt the quality was more 'knock-off' brand than real Otterbox.
The case is decent, but the cover when used as a stand is extremely lacking in support, with light touches on the iPad ending with a crash as the case stand collapses.
Buyer beware.
OtterBox Customer Support - 3 months ago
Hello! We apologize that you are finding the stand function of the Symmetry 360 Elite case to be less supportive than you had anticipated.
This case has a different design and a completely different stand than the Defender or Defender Pro Series cases.
Should you feel the case feature you described could be fixed via warranty replacement, please feel free to reach out to our Customer Service Team (1-855-688-7269) and we would be happy to help!
If you don't have nails don't bother
Nicely built but major design flaw.
Will be returning. Not easy to open as there isn't a lip to grab on to the cover to open.
Have to push open the cover across the screen which then smears the screen if it has fingerprints on it.
The pen holder is a cool idea though.
OtterBox Customer Support - 3 months ago
Hello! We are glad to hear you appreciate the durable construction of the case and the pen holder feature included.
We apologize that the way in which the case opens does not meet your needs in regard to the way you would use the case.
Please feel free to check out our other case options for your device to see if those might work out for you better!