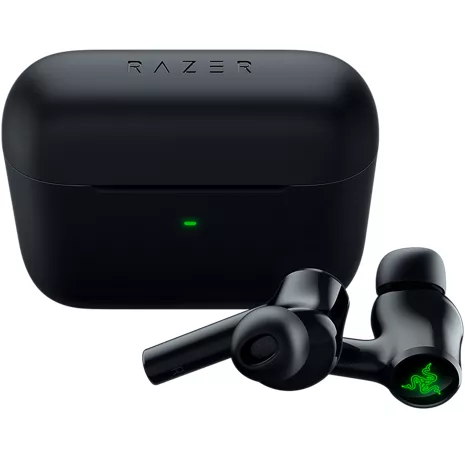 Pestaña Resumen seleccionada 1 de 4
Inicio de sección Resumen
Immerse yourself in your gaming experience with the Hammerhead True Wireless Earbuds (2nd Gen). These compact, in-ear Bluetooth® earbuds feature a comfortable, secure fit. 60ms low latency Gaming Mode allows for more synchronized gaming on Bluetooth devices.
Powered by Razer Chroma RGB, you can stand out from the crowd using customizable lightning and effects with 16.8 million colors to choose from.
And, the comfortable design offers enhanced noise isolation to filter out background noise.
Active Noise Cancellation.
If you want to go for a full, distraction-free gaming experience, turn on Active Noise Cancellation.
ANC detects and nullifies unwanted ambient noise so you can keep your head in the game.
Dual Environmental Noise Cancelling microphones.
Coordinate with your team using Duan Environmental Noise Cancelling microphones.
These smart microphones detect, identify and reduce unwanted background noise for vocal clarity during video and voice calls.
Go further with the app.
Use the Razer Audio app to further customize your experience.
Tweak Razer Chroma RGB settings, remap touch gestures, customize the EQ and more.
Reseñas
60% of reviewers recommend this product.
Exceptional Quality. Great Sound, Comfortable
Sí, recomendaría este producto.
I have owned various brands of earbuds and the Razer Hammerhead gen 2 are far better than every other brand I've owned.
They are extremely comfortable and while using the app the Amplified sound settings give the sound response punch.
The bass is balanced and strong and not boomy where I don't want that thumping frequency response in my ears continuously anyway.
For additional points the chroma effect is just really cool and understated as others will casually glance at the effect in awe and envy white they are only fashioned in boring looking monochromatic overpriced earbuds (lol, you know who you are, lol) The Hammerheads are a great pair of earbuds at a great price.
NOT what you expect from Razer
I purchased these as a LONG time Razer product user, mostly on the PC Gaming side, and these over the PS5 version because they are supposed to work on PS5, Xbox and phone.
However, these have been far from what one would expect from this company.
Battery Life: What a joke this is...
With all the bells and whistles off, I'm still lucky to get a couple hours use on a full charge.
Sound Quality: mediocre at best.
These have constant static in them, and most the sounds are really weird sounding in them.
Overall, a HUGE disappointment for 160 pair of headphones.
Extremely disappointed in these.
Had my.return period not been past they would be going back....