Ring Alarm serie V2 700, kit de 8 piezas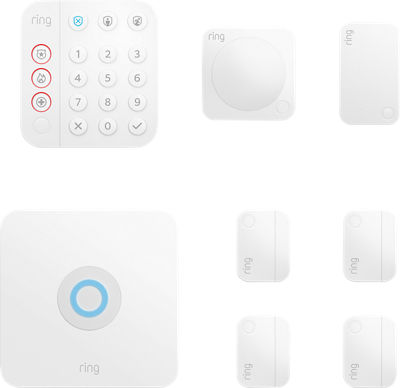 Protect your home with the Alarm V2 700 Series, 8 piece Kit. This 8-piece kit features essential items to feel secure in your home. The base station keeps your Ring Alarm online and connected to your device. The range extender increases the signal in a 250-foot radius from your base station to other Alarm components. The keypad control panel arms and disarms your security system from inside your home. And, each of these components has a plug-in battery, with an up to 24-hour backup battery.¹

Stay aware of what s happening.
The motion detector has customizable, pet-friendly motion settings and can be used to trigger Alexa routines. The contact sensor secures your windows and doors and sends you alerts when they open.

Monitor your home.
The flood and freeze sensor alerts you when sensing water and low temperatures inside our home, while the smoke and CO listener does the same for when your smoke or carbon monoxide alarm sounds. And, the compact panic button allows you to sound the Ring Alarm siren in case of emergency.

¹ Battery life and charge cycles vary with use, settings, and other factors; actual results will vary.

Reviews
4.6/5
94 reviews
89%
of reviewers recommend this product.
Love Ring and Ring Products!
Yes, I'd recommend this product.
[This review was collected as part of a promotion.] I have nothing but good things to say about the ring and their products! I love the app. It's so easy to use and I have all my lights, cameras and security devices hooked up to it. I get notifications when I'm not home or on vacation which is really nice. I can be out of the country but still know what's going on at my house. Definitely gives me piece of mind. The alarm kit goes above and beyond what the doorbell camera and lights do. It's nice to know if my windows or doors are disturbed while I'm not home. I'd definitely recommend all ring products! Got to stay safe!
gives us peace of mind
[This review was collected as part of a promotion.] My family loves having this ring alarm set. It gives us peace of mind while we are away and sleeping. We know that if someone were to break into our house, the alarm would instantly notify us. This set includes a base station, a keypad, four contact sensors, a motion detector, and a range extender. The contact sensors work on both doors and windows. The range extender does a good job. We have one of our contact sensors on our basement door and our detached garage building's door. Without the range extender, both of these doors were too far away from the base, but with the range extender, it reaches them without a problem. The motion detector is very nice to have. We ended up putting it outside by our front door (where it is protected from the elements). My four-year-old snuck outside one day. I was very grateful that the motion detector alerted me. The alerts can go through your phone and the base station. The app has so many different settings. My husband installed everything, but he didn't have any issues. The instructions were clear and easy. The base was the most "difficult" thing to install, but even that wasn't hard.