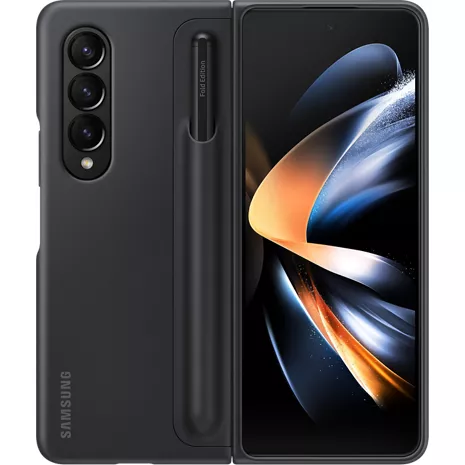 Pestaña Resumen seleccionada 1 de 4
Inicio de sección Resumen
The Standing Cover with S Pen for Galaxy Z Fold4 has been upgraded to suit the new Galaxy Z Fold4, including an S Pen Fold Edition along with a dedicated holder.
S Pen Fold edition.
The Standing Cover has been upgraded to suit the new Galaxy Z Fold4 — and the S Pen Fold Edition¹ that works with it now. You can work smarter with S Pen and turn your scribbles into strokes of genius.
S Pen at the ready.
Always be ready to scribble. A dedicated and detachable S Pen Fold Edition holder is included with the Standing Cover. Plus, the case provides stability, so you can place your Galaxy Z Fold4 on a table and start writing without your phone moving.
Always ready for viewing.
Let it stand and enjoy your show. The Standing Cover with S Pen's kickstand offers an optimal, hands-free viewing angle by propping up your Galaxy Z Fold4 at the 55-degree standing angle.
Going green.
¹ Compatible with Galaxy Z Fold4 and Z Fold3 main display.
The plastic portion of the Standing Cover with S Pen for Galaxy Z Fold4 - Black contains a minimum of 14% post-consumer recycled content (UL ECVP 2809). For more information see:
www.ul.com/services/recyclability-environmental-claim-validation-ecv
Reseñas
52% of reviewers recommend this product.
Horrible case
I purchased this for my Fold 4 and it is flimsy, plastic and does not do anything to protect the front glass like the leather one I purchased for my Fold 3. If I still had the packaging, I would send it back. DO NOT BUY. Waste of $100!
Samsung - 1 day ago
Salutations Mr, thanks for taking the available time out of your busy day to share your thoughts with us about your Samsung Standing Cover with Pen for Galaxy Z Fold4. We appreciate your candor as we make every effort to improve the design and functionality of our product line. Our goal is for our customers to feel like they are having the most ideal experiences while using our products. Samsung provides a 12-month warranty on our products for manufacturing defects in materials and workmanship. We strongly recommend protecting all of your Galaxy devices not only with a protective case but also with a screen protector. Please feel free to contact Samsung Support if you have any questions or if you would like to share any additional feedback with us regarding your purchase. Thank you for being a faithful Samsung customer. - Debra
Not worth it
This case is not sturdy at all. Just did not like it. I would not recommend.
Samsung - 9 days ago
Hi there Jan, thanks for taking the opportunity to review your Samsung Standing Cover with Pen for Galaxy Z Fold4. We appreciate your honesty as we strive to provide the very best products with superior functionality on the market to our customers while we remain committed to constant innovation. Our goal is for our customers to feel like they are having the most unforgettable experiences while using our products. Samsung provides a 12-month warranty on our products for manufacturing defects in materials and workmanship. Feel free to contact Samsung Support if you have any questions for us, if you would like to share any other feedback with us, or if you would like any further assistance. Thank you for being a loyal Samsung customer. - Debra