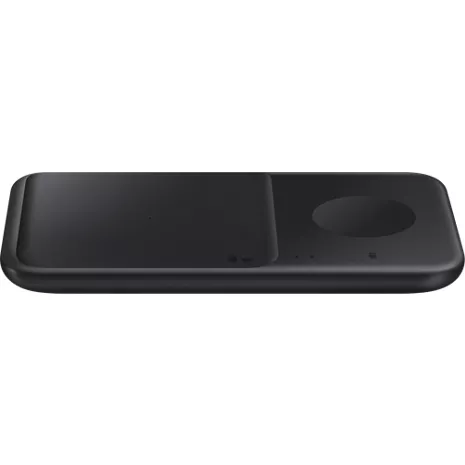 Pestaña Resumen seleccionada 1 de 4
Inicio de sección Resumen
Charge your devices simultaneously with the Wireless Charger Pad Duo.¹ This wireless charger features a dedicated placement for your Galaxy smartwatch,² allowing you to charge both your Qi-enabled smartphone or earbuds and your smartwatch at the same time.¹ With USB PD and Adaptive Fast Charging capabilities, you can charge your devices even faster when needed.³ The LED charging light changes color to show your devices charging status and can be dimmed so it doesn t interrupt your sleep.
4 And, it can even charge through lightweight cases, so you don t have to take your case off to charge your phone.5
¹Charging two devices simultaneously on the left pads may affect charging speed.
²Right pad supports charging for Galaxy Watch3, Active2, and Active smartwatches only.
³Wireless Fast Charge is compatible with the Galaxy Note5 and Galaxy S6 edge+ and later models of the Galaxy S and Galaxy Note series. 7.5W charging applies to Apple including iPhone X and later models. Standard 5W charging speed applies to Qi compatible devices. Requires included wall charger to operate as advertised. Use of improper power source may result in damage to charging pad. Faster charging speeds compared to Samsung s standard charging speed. Charging speeds may vary by device. Actual charging speed also vary depending on usage, charging conditions and other factors. See Samsung.com for compatibility. Tested under laboratory conditions. Results may vary.
4Dimming schedule can be set in the Settings menu to turn off Fast Wireless Charging at a specific time and dim the LED light.
LED light dimming can only be controlled via mobile phone (from Galaxy S10 and Note10 series onwards).
5Case material type may affect ability to charge through case.
Case thickness over 3mm may cause wattage to drop and produce heat, resulting in longer charging times.
Reseñas
33% of reviewers recommend this product.
Review
It does not charge My phone only my watch.....
Samsung - 7 months ago
Hi Mallory... Thank you for your review of the Wireless Charger Pad Duo. Without knowing how long you've owned your device, there is a warranty available on all Samsung devices. Please reach out to Samsung's warranty department for assistance. Thank you for being a valued customer. -Bethany
don't work
mammabearrhiry . 11 meses hace
I purchased this a few weeks ago and have tried several times to use it but I am not getting it to charge my watch. When my watch is on the charger it is losing power percetnages. I just haven't had time to get back to the store to return it as I don't have - hours to wait for service at the store.
Samsung - 11 months ago
Hello...Thank you for your review of the Wireless Charger Pad Duo. There is a warranty available on all Samsung devices. Please reach out to Samsung's warranty department for assistance. Thank you for being a valued customer. -Bethany