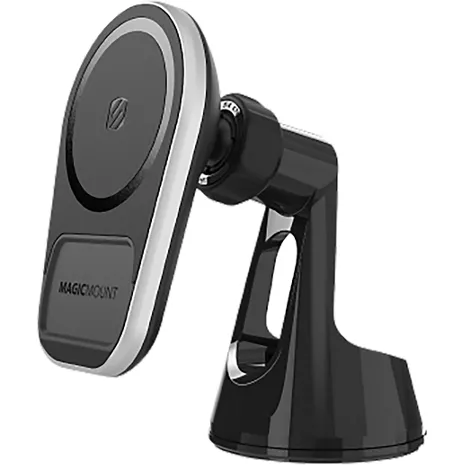 Pestaña Resumen seleccionada 1 de 4
Inicio de sección Resumen
Keep your phone charged while on the go with the MagicMount Pro Charge5 Window and Dash Wireless Charging Mount with MagSafe.
This versatile charging mount features extra-powerful Rare-Earth neodymium magnets that are up to 30% stronger than standard Magic Mounts and are safe for your mobile device.
And, foreign object detection shuts down charging if it senses other than a phone in the Qi charging area.
Qi certified wireless charging.
This charging mount is certified for safety and compatibility with Qi devices, and provides up to 10W of fast wireless charging power.
MagSafe compatible.
The specially designed mount head allows you to safely and securely charge your MagSafe device without having to use a MagicPlate.
Versatile and secure.
The StickGrip material on the base of the suction cup allows you to quickly secure your charging mount to almost any flat surface.
Reseñas
79% of reviewers recommend this product.
Works great!
Sí, recomendaría este producto.
[This review was collected as part of a promotion.]
I needed a good mounting charger for work.
I do deliveries and constantly need my phone on a charger.
The hassle of a cord being plugged in and taken off I was happy to cut ties with.
This MagicMount Pro Charge was super easy to install and sits stable on my dash.
My Samsung Galaxy S23 plus sits on it well, charges exceptionally fast and is a lifesaver.
The phone instantly magnetize to the charger and stays put.
It doesn't fall and is so much easier to gran than having to pull a cord out of it everytime I need to get out of the car.
Awesome charger.
scosche Publicado originalmente en scosche
Very good but rattles a bit
It is a very good mount/charger.
I can't give 5 stars because it rattles a little when driving