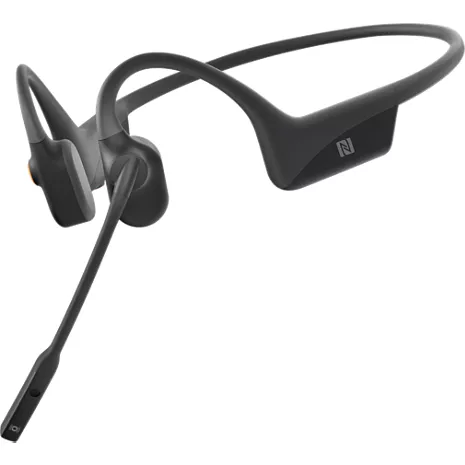 Pestaña Resumen seleccionada 1 de 4
Inicio de sección Resumen
Take calls and listen to music hands-free with the OpenComm Bone Conduction Stereo Bluetooth Headset. Designed specifically for communication, this headset is a great option for a long day of calls when working from home. And, use the easy, on-ear controls to play, pause, skip, activate your voice assistant and answer calls with the tap of your finger.
Open-ear comfort.
The open-ear design with patented bone conduction technology delivers premium audio through the cheekbone while allowing you to stay aware of your surroundings.
Noise-cancelling boom microphone.
Hear and be heard while on the go. The noise-cancelling boom microphone cuts out background noise, allowing you to be heard in loud environments.
Long-lasting battery.
With up to 16 hours of talk time and up to 8 hours of listen time, it's can outlast even your longest conference call.¹
¹ Battery life and charge cycles vary with use, settings, and other factors; actual results will vary.
Reseñas
50% of reviewers recommend this product.
Good for conf calls, may want to test them if you wear glasses
These are great for dialing into conf calls, I use them mainly for work. I find that if others on a call are using their computer speakers, there is a bit of a buzz that is picked up by the headset mic . This is also true if someone has a very deep voice or has their mic volume turned up loud compared to others. I also get a touch of vibration with deep voices when wearing glasses over them. Overall I'm very pleased with them. I have to disconnect them from one of my phones before my PC will allow bluetooth connection. Considering getting the headphones to work out.
Shokz Publicado originalmente en Shokz
Shocked at how good the shokz work
Marrhew W. . 2 meses hace
I work in noisy plant environments, having headphones that allow me to wear ear protection and hear my phones is awesome. The ability to pair them to two phones at once is also great. In most plants I can actually call people and have conversations without having to leave the production floor. Will definitely purchase again.
Shokz Publicado originalmente en Shokz