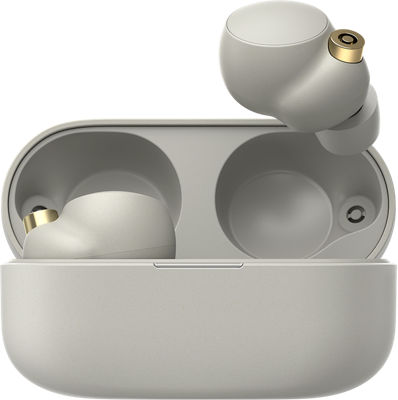 Sumérgete en tus canciones favoritas con los audífonos intrauriculares con cancelación de ruidos WF1000XM4 True Wireless. Estos audífonos Bluetooth® cuentan con un procesador V1 integrado para una calidad de sonido excepcional. La cancelación de ruidos líder en el sector ofrece llamadas nítidas, incluso en entornos ruidosos. La tecnología Speak-to-chat pone en pausa la música para capturar los sonidos ambientales cuando comienzas a hablar. La batería de hasta 8 horas te ayuda a realizar tus llamadas diarias.¹ Y, con una certificación IPX4 de resistencia al agua, pueden soportar incluso a tu entrenamiento más exigente.²

¹La duración de la batería y los ciclos de carga varían según el uso, las configuraciones y otros factores; los resultados reales variarán.
²IPX4: soporta salpicaduras de agua. No sumergir.
Reseñas
120 reseñas
de las reseñas recomiendan este producto.
very good
Sí, recomendaría este producto.
I brought it a couple of days ago no problems so fare
Sony North America Customer Support - 9 days ago
Hi saviore, Great! We are glad to hear you are enjoying our industry-leading, noise-canceling Truly Wireless headphones. We designed these headphones to provide incredible audio performance and take noise cancellation to the next level. You can enjoy crystal clear call quality, even in noisy environments and our speak-to-chat technology automatically reduces volume during conversation. Plus, you can get 8 hour long battery with noise canceling, IPX4 water resistance and easy wireless charging. Thank you for choosing Sony! Erin
Awesome Product
Sí, recomendaría este producto.
I've been using these nearly non-stop at work since I purchased. The audio is great and the feature suite is unparalleled. They were super easy to set up with my Samsung phone (on par with apples airpods and an iphone). At first one of the buds hurt my ear where the plastic pressed, but it went away after a little bit of wear. Very comfortable one broken in and feel very stable in ear. Overall, very impressed.
Sony North America Customer Support - 12 days ago
Hi TBush, Thank you for sharing your great experience with us! We're happy to hear your WF1000XM4 suits your needs and expectations. Nice to know you are enjoying the amazing sound quality, features, easy connection of your devices to the unit. We're sorry to hear your discomforts when using the headphones for the first time. and we are glad to know that it is all good now. We designed these headphones to provide incredible audio performance and take noise cancellation to the next level. You can enjoy crystal clear call quality, even in noisy environments and our speak-to-chat technology automatically reduces volume during conversation. Plus, you can get 8 hour long battery with noise canceling, IPX4 water resistance and easy wireless charging. Thanks for choosing Sony! - Kris