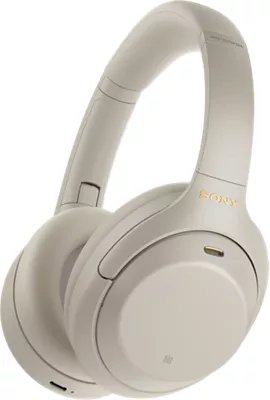 Lleva tu experiencia en música al próximo nivel con los audífonos inalámbricos con cancelación de ruido. Estos audífonos con cancelación de ruido líderes en la industria tienen tecnología de doble sensor de ruido para que disfrutes de una experiencia auditiva envolvente. El control de sonido adaptativo ofrece una experiencia de audio personalizada estés donde estés. La tecnología de voz a texto reduce automáticamente el volumen de tus audífonos durante las conversaciones. La calidad superior de llamada con óptima recepción de voz te garantiza que siempre te escucharán. Y la detección de uso pausa automáticamente la reproducción cuando te quitas los audífonos, para que nunca te pierdas una canción.

Fácil de usar.
Los sensores táctiles integrados en el audífono te permiten reproducir, pausar, saltar pistas, controlar el volumen, activar tu asistente de voz y responder llamadas telefónicas.

Batería para todo el día.
Con una batería de hasta 30 horas, estos audífonos superarán lo que dura tu lista de reproducción más extensa. Y, si te estás por quedar sin batería, la carga rápida significa que una carga de 10 minutos te ofrecerá 5 horas de reproducción.¹

Optimiza tu música.
Lleva tu música al próximo nivel con Edge-AI. Edge-AI analiza tu música en tiempo real para volver a crear un audio que se puede haber perdido durante la compresión digital, para brindar un sonido más potente e intenso.

Emparejamiento con múltiples dispositivos.
Los audífonos inalámbricos con cancelación de ruido se emparejan perfectamente con varios dispositivos, para que sea fácil alternar entre tu teléfono y laptop.

Comodidad por más tiempo.
El diseño actualizado de los audífonos alivia la presión en la parte superior de la cabeza, para brindar un confort de larga duración mientras juegas o trabajas todo el día.



1. La duración de la batería y los ciclos de carga varían según el uso, la configuración y otros factores; los resultados reales varían.
Reseñas
397 reseñas
de las reseñas recomiendan este producto.
They work amazing - but one ear is getting staticy
I bought them in Feb 2022 - they worked great all up until the last 2 trips I took. I only use them when I fly - as its the only time I need over the ear headphones. So total I probably used them around 30 times at an average of 2.5 hrs of use.. so VERY minimal use. and one of the ears has a lot of static when playing sound. it started off minimal but now its getting to the point where they are hard to use. hoping the warranty actually works out - since I got 1 month left. but we will see. updates to come when I find out.
Sony North America Customer Support - 14 days ago
Hi cxp3, We are sorry to hear about the issue that you are having with the WH-1000XM4 headphones. Depending on the surrounding environment, wind noise may increase when the Ambient Sound Mode is turned on. In that case, cancel the voice focus with the "Sony | Headphones Connect" app. If the wind noise is still significant, turn off the Ambient Sound Mode. If the issue still occurs, please try resetting and initializing the WH-1000XM4. To reset: https://helpguide.sony.net/mdr/wh1000xm4/v1/en/contents/TP0002752743.html To initialize: https://helpguide.sony.net/mdr/wh1000xm4/v1/en/contents/TP0002752746.html May we contact you to help? If so, please email the below information to socialsupport@am.sony.com Apologies if you disclosed some of this information in your review and to customer service, we just want to ensure that we have your accurate details at the time of communication. Full Name: Best Buy Username: Telephone Number: Model Number: Issue: Regards, Carl