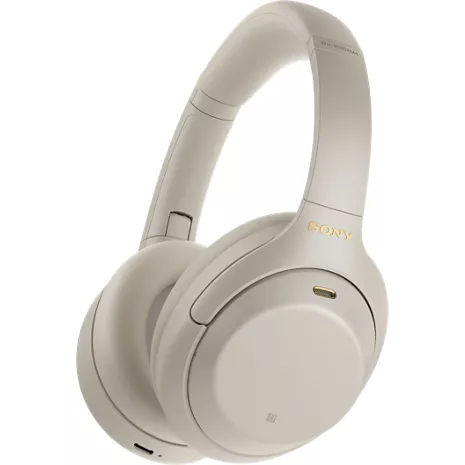 Pestaña Resumen seleccionada 1 de 4
Inicio de sección Resumen
Take your music experience to the next level with the Wireless Noise Canceling Headphones.
These industry-leading noise-canceling headphones feature Dual Noise Sensor technology for an immersive listening experience.
Adaptive Sound Control provides a personalized listening experience wherever you are.
Speak-to-chat technology automatically reduces the volume of your headphones during conversations.
Superior call quality with precise voice pick up means you will always be heard.
And, wearing detection automatically pauses playback when headphones are removed so you never miss a beat.
Easy to use.
Touch sensors built into the earcup allow you to play, pause, skip tracks, control volume, activate your voice assistant and answer phone calls.
All-day battery life.
With up to 30 hours of battery life, these headphones will outlast even your longest playlist.
And, if you're running low, quick charging means a 10-minute charge will give you 5 hours of playback.¹
Enhance your music.
Take your music to the next level with Edge-AI.
Edge-AI analyzes your music in real-time to rebuild audio that may have been lost during digital compression for a fuller, richer sound.
Multiple device pairing.
Wireless Noise Canceling Headphones pair seamlessly with multiple devices, to make swapping from your phone to your laptop a breeze.
Long-lasting comfort.
The updated headphone design relieves pressure on the top of your head, for long-lasting comfort through all-gaming or a long day at work.
1. Battery life and charge cycles vary with use, settings, and other factors; actual results will vary.
Reseñas
82% of reviewers recommend this product.
This sucks
Sí, recomendaría este producto.
I can't use the active noise canceling anymore it just makes a constant beeping sound that is loud and hurts the ear
Sony North America Customer Support - 1 month ago
Hi Brizzy, We regret to hear that you're having an issue with your headphones.
This is definitely not the experience we'd like you to have.
We'd love to help and turn your experience around.
First, please ensure the software is updated.
You can check the software version by launching the Headphones Connect App. You may also find the link below helpful: https://www.sony.com/electronics/support/articles/00229328?utm_source=glean In addition, you may also reset or initialize the headphones. https://helpguide.sony.net/mdr/wh1000xm4/v1/en/contents/TP0002752743.html If this does not help, please email us at socialsupport@am.sony.com with the following details: Name: sony.com Username: Model Number: Issue: Telephone Number: Sincerely, Erin
sony.com Publicado originalmente en sony.com
Noise canceling is great!
Sí, recomendaría este producto.
I use it for long flights.
I can't hear any noise around me.
Even babies crying can't bother me at all.
Sony North America Customer Support - 1 month ago
Hi Leofranca, Thank you so much for sharing your great experience with us!
We're happy that you enjoyed your long flight using the WH1000XM4 headphones.
Nice to know it suits your needs and expectations.
Intelligent and intuitive, the WH-1000XM4 headphones offer further improvements to our industry-leading noise cancelation, exceptional sound quality, and smart listening that adjusts to your behavior and your location.
Using the Sony Headphones Connect app, Ambient Sound Control lets you adjust the volume of background sound and gives you the option to allow voices alone to be heard.
Meanwhile, the Equalizer lets you customize sound levels to suit your music.
Thanks for choosing Sony! - Kris
sony.com Publicado originalmente en sony.com