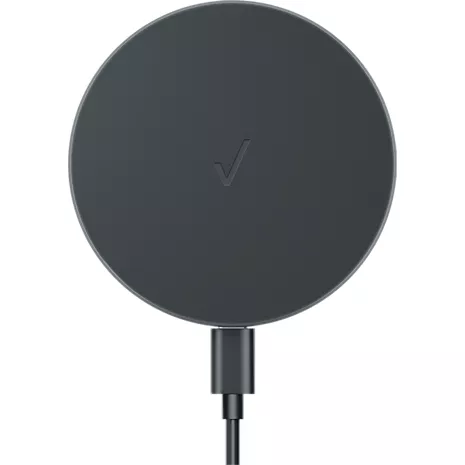 Precio
$46.74
Pricing reflects 15% savings.Details
Pestaña Resumen seleccionada 1 de 4
Inicio de sección Resumen

Your purchase of this product helps us in our commitment to support climate protection. Learn more at
citizenverizon.com
Keep your devices fully charged with the 15W Wireless Charging Pad. This sleek charging pad is made in part with up to 30% recyclable materials and features a silicone grip surface to keep your device in place. The pad supports up to 15W of wireless fast charging power and the wall charger supports up to 25W of charging power using USB Power Delivery. It's Qi and Google certified to meet strict quality guidelines. And, the charging pad LED illuminates to indicate charging status so you know when your phone is finished charging.
Fast, powerful charging.
Verizon phone chargers have faster charging and are more energy-efficient for most devices with up to 45% faster charging speed.¹
Quality design.
Verizon accessories go through multiple rounds of rigorous testing for certified quality and durability. Verizon also offers a one-year limited warranty on our charging accessories.
Easily available.
Pick up a Verizon phone charger with your new phone purchase. All of our accessories are available both on our website and in stores.
¹ Based on independent testing.
Reseñas
27% of reviewers recommend this product.
Won't buy again
Shuts off randomly, slow charging, phone has to be put on just right to charge, don't fully charge phone. Totally disappointed in my purchase.
The Verizon Team - 6 hours ago
Hi Ronald, Thank you for your review and the information about your experience with the Verizon Charging Pad. Please feel free to connect with our amazing support teams at https://www.verizon.com/support/ and they'll be happy to work with you to find the best resolution.
Charging at its best
Sí, recomendaría este producto.
Lay phone on top and done