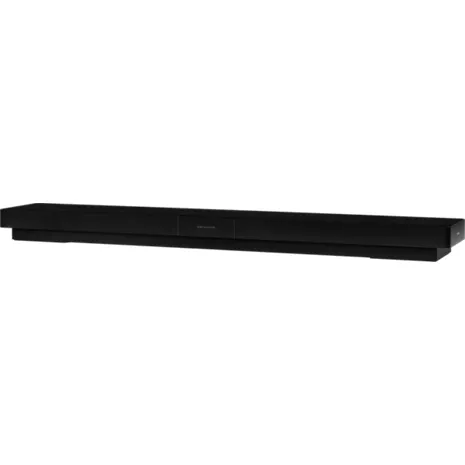 Lleva el cine a tu sala con la potencia de la barra de sonido profesional Stream TV. Diseñado con el sonido característico de Bang & Olufsen y streaming en ultra alta definición de 4K integrado¹, la barra de sonido profesional Stream TV es una solución de entretenimiento 2 en 1. El moderno diseño minimalista crea una experiencia de cine en casa que se ve tan bien como suena.

Solución todo en uno.
Optimiza tu equipo de sistema de cine en casa al combinar streaming 4K Ultra HD¹ y sonido envolvente virtual expansivo en un práctico dispositivo. Simplifica aún más la configuración de la sala de estar al conectar tus consolas de juego u otros medios a las 3 entradas HDMI.

Sonido envolvente.
Obtén la calidad de sonido que le falta a tu televisor. El diseño con el sonido característico de Bang & Olufsen con 9 altavoces integrados y el sonido espacial de Dolby Atmos llevan el audio envolvente a tu sala de estar.

Miles de películas y programas de televisión.
Hay cientos de aplicaciones de streaming disponibles para descargar desde Google Play Store³, como Netflix, Disney+, Apple TV+ y muchas más. Los nuevos lanzamientos y los clásicos favoritos pueden alquilarse o comprarse en Stream TV Store² y los canales gratuitos en vivo y en directo están disponibles en Pluto TV: basta con solo oprimir el botón de guía.

Diseño moderno y sorprendente.
Mejora el estilo de tu cine en casa con el diseño clásico e inigualable de Bang & Olufsen. Colócalo sobre una mesa o móntalo en la pared: tú eliges.

Control remoto de próxima generación.
El control remoto por voz de Stream TV se conecta por Bluetooth y puede controlar la potencia y el volumen del televisor, la barra de sonido o el receptor de audio, para que puedas controlar tu sistema de entretenimiento desde un solo control remoto. El botón Asistente de Google³ activa la búsqueda por voz y el botón Find My Remote hace que el control emita un sonido de "beep" para que puedas encontrarlo rápidamente cuando lo pierdas.

Interfaz de usuario sencilla y personalizable.
Fija tus aplicaciones favoritas en la pantalla de inicio para acceder a ellas fácilmente o encuentra tu próxima película favorita con recomendaciones personalizadas. Cuando sepas exactamente lo que quieres ver, la función de búsqueda inteligente te mostrará los resultados de todos tus servicios suscritos.

¹ Se requieren dispositivos compatibles con 4K. La visualización de contenido en 4K se verá afectada por factores adicionales como la velocidad de Internet, la congestión de la red doméstica y el sistema operativo de los dispositivos usados para acceder al contenido.
² Compra o alquiler disponible a través de Stream TV o la aplicación Stream TV en la plataforma Android. Las compras de aplicaciones no son compatibles en iOS.
³ Se aplican los Términos de servicio de Google.

Reseñas
60% de las reseñas recomiendan este producto.
Underwhelming sssss
Everyday Driver . 1 mes hace
I'm really trying to like this. I did get this with a $300 off promotional credit plus $200 credit in the Verizon store. But even at $500 I'm having a hard time justifying the value. For a soundbar there are minimal adjustments that can be made. Both wall and table mounted it gives the sound a boost. But the immersion I expected is basically absent with Atmos content. This bar is best suited for a bedroom or small living room. To think I paid $1,300 for a Samsung Q990b which is basically $300 more than the B&O, and it provides mind boggling immersion, base, clarity, and adjustment I can't imagine buying this at $1,000. Even picture adjustments are difficult because the android interface uses all sorts of terminology that maybe .05% of the population actually knows what it's doing. The remote provides no settings button to adjust things while watching content so you set and hope you got it right. It's infuriating. The bar, placed 3' away from my Wi-Fi seems to struggle to keep an internet connection. The video seems washed out and dull when compared to my TV's Roku interface. The Android OS also seems laggier and my TV is 6 years old. I'm debating returning it and getting a Bose or Sonos. It's just too underwhelming for what it should be. There is a lot to be learned here by Verizon and B&O when it comes to providing a product like this. The OS while not hard for me to understand would easily be for many. Google needs to work on making adjustments available in-content as well as more easy to understand adjustments. The lack of sound adjustment is ridiculous for something that's main purpose is to provide sound. I have no clue when the soundbar is processing Atmos-if it is at all and it does not sound like it despite being fed that content. B&O should be weary of developing and compromising on a product that does not live up to their level of quality. Again, I'm giving it a few more days but as of now I'm leaning toward returning it. There are better options at or below the same price that provide better sound and better adjustability.
Asistencia para Stream TV - 1 mes hace
Agradecemos tus comentarios. To better understand your issue, our support team will need your unit's diagnostic information. please report your issue through the Stream TV Soundbar, by going to Settings > Help > Report a Problem, and an agent will address this issue. Gracias.
Not a BeoSound Stage, but still great! Probably better value too! sssss
ParadigmMR2 . 6 meses hace
Sí, recomendaría este producto.
This isn't a Bang & Olufsen BeoSound Stage with 2 woofers removed to allow for the built in Android TV. First off, while it has the same shape as the Stage, the Verizon unit is just plastic. Not surprising, and likely a big contributor to why the price is so much lower than the Stage. Drivers and placement are different. I am unsure if the tweeters and tiny mids are different, but the 2 larger woofers are definitely different. Additionally the outer tweeters and mids are aimed to be height type units on the Stage, but they are just front facing (or straight up if placed on a desk). Again, this makes sense to keep costs down. Finally, one I knew going in, no app, just a few basic adjustments within the settings of the unit. So what does all of this translate to? Well, to my ears this is an amazing sounding soundbar that does surprisingly well for music. It also has bass that really boggles my mind as far as how is it possible. It also of course handles TV and movies very well. In my use I preferred it in the wall mount position so that the drivers face forward. I felt like the upward firing gave a better spacious impact and I liked it very well as I first tried it that way, however, it moved to 5 stars when the drivers faxed me. I would love to hear a Stage for comparison, but it is hard to imagine it coming close on value at such a premium price. As stated there is a drop in materials that goes beyond the far less premium finishes that are apparent at a quick glance, but it still looks great and seems like a premium item. Finally, I have messed with the streaming some and it seems to be effective, but I am not a huge fan of the chosen layout. Overall I wouldn't want to pay full price, but when a sale can get the price down or if you find a used one like I did then I easily give this 5 stars.