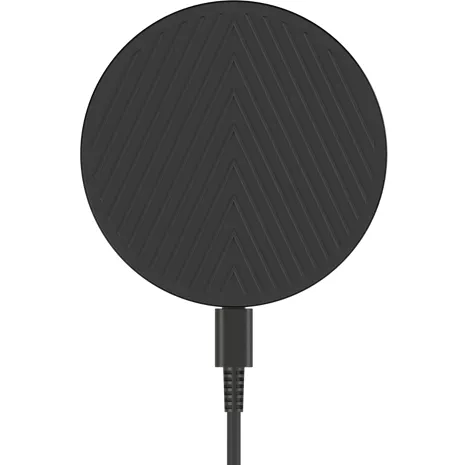 This item is currently only available for Express Pickup. 
Select a store to continue.
Free returns within 30 days.Details
Pestaña Resumen seleccionada 1 de 4
Inicio de sección Resumen
Start fueling up on contact with this faster-than-most Wireless Charging Pad with Fast Charge. Proven to charge Apple, Samsung and Google devices up to 37% faster¹ than other brands in the market, you'll spend less time charging your battery. Its durable aluminum construction and silicone surface help ensure a secure, reliable charge. Just center your Qi-compatible device on the pad to get started, no need to remove your case. An easy-to-read LED light indicates when your device is charging (see manual for complete details).
Charge faster. Less waiting.
The Verizon wireless charging pad is optimized for the fastest charging on most Qi-compatible devices, including Apple, Samsung, Google and more.
Safe to use.
This product is halogen-free, meaning it was made with non-bromine and non-chlorine materials. It also complies with the Restriction of Hazardous Substances (RoHS).
Certified.
Feel confident your phone will work with this Made for Google and Qi-certified wireless charging pad. Compatible with iPhone 8 or later, Samsung Galaxy S6 or later, Google Pixel 3/3 XL or later and other Qi-certified phones.
Charge through phone cases.
With the extended reach of this wireless charging pad, you won't need to remove your phone case to charge your device. Charging works through most cases.
Fast, powerful charging.
Verizon phone chargers have faster charging and are more energy-efficient for most devices with up to 45% faster charging speed.¹
Quality design.
Verizon accessories go through multiple rounds of rigorous testing for certified quality and durability. Verizon also offers a one-year limited warranty on our charging accessories.
Easily available.
Pick up a Verizon phone charger with your new phone purchase. All of our accessories are available both on our website and in stores.
¹ Tested by UL (Underwriters Laboratory).
Reseñas
33% of reviewers recommend this product.
Great but not
Sí, recomendaría este producto.
Love the item but not the price!
Works when it wants to
This charger started out amazing but over time has become super finicky! If I move it from one location to another the green light starts blinking and I can't get it to stop and charge my phone. Google says it's because the pad is dirty but how did it get dirty in the 10 seconds it took to move from one plug in to another?!
The Verizon Team - 27 days ago
We are sorry to learn that you're having problems with the Charging Pad you ordered. We would like to further diagnose the issue and suggest troubleshooting steps or a potential solution. Could you please reach out to us at https://www.verizon.com/support/contact-us/#mobile? Thank you.