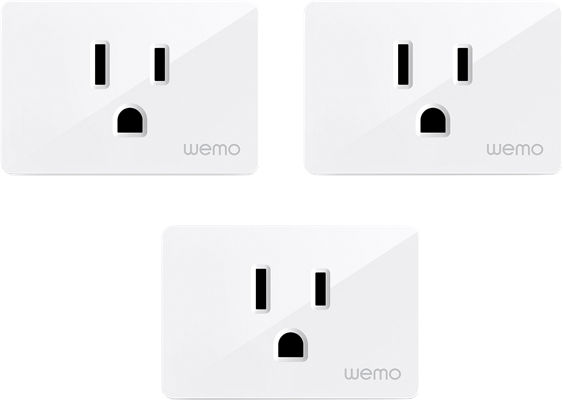 Dale a tus electrodomésticos un toque más inteligente con el paquete de 3 enchufes inteligentes Wi-Fi. Este paquete múltiple de enchufes compactos tiene un diseño que no ocupa mucho espacio y no cubre todo el tomacorriente. El enchufe inteligente es fácil de instalar y funciona con tus lámparas, ventiladores y más. Controla y programa las luces y los electrodomésticos desde tu dispositivo inteligente con la aplicación Wemo gratis u ordena comandos manos libres con tu voz.¹ Usa tus luces para que parezca que estás en casa, incluso cuando no lo estás. Y funciona con Apple HomeKit, Google Assistant, Alexa y IFTTT.¹

¹Cuando se empareja con un dispositivo o servicio de reconocimiento de voz, se vende por separado.
Reseñas
582 reseñas
de las reseñas recomiendan este producto.
Do not Buy!!
edcarrera07 · 19 days ago
device does not work, after 2 months. try contacting support but no help! end up putting device in the trash
Customer Service - 19 days ago
Hi edcarrera07, We have taken note of your feedback on the Wemo WSP080, and will share this with our team. If you have another Wemo device that you need help with, you can contact us via email at WemoCares@belkin.com or through our support hotline, found on this link: https://www.belkin.com/us/support-article?articleNum=55022. Please include in your email, the link to this review, for our reference. Regards, Kyla Wemo Support
Wemo Mini - Does not work with Sunset Rule
santacruz1966 · 4 months ago
After 4 calls (one where I was waiting for 90 minutes) to Wemo support I and Wemo support have given up. The plug will not adhere to the sunset rule. Yes, it has the latest firmware, yes I have the latest IOS App, yes I have reset the plug to factory settings, yes it is close to router (2 ft), yes I have re-established several sunset rules. Note that I have 5 other older wemo plugs working with the sunset rule on the same network. They want to send me a new one but the last time I had an issue like this was with the outdoor plug which WEMO admitted that it would never work with the sunset rule due to firmware issues. I fear this is the same issue here.
Customer Service - 4 months ago
Hi santacruz1966, What you have experienced is totally unexpected. We'd like to rectify things out and endorse your case to our 2nd Level Support Team. Please send us an email at WemoCares@belkin.com along with your previous support case number and contact details. We'd like to learn more details about your concern and help you figure our what's causing this to happen. We'll wait for your updates! Regards, Carl Wemo Support