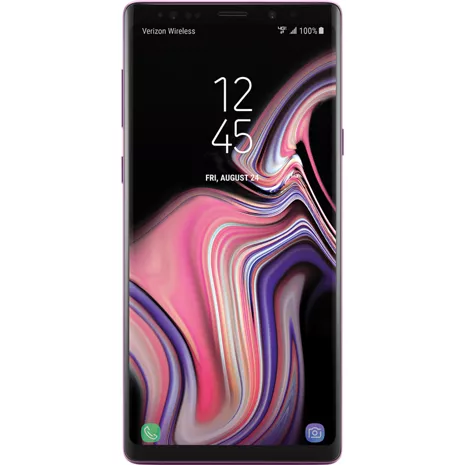 carrusel con 1 diapositivas
This item is out of stock.
With a bigger screen, faster processor and longer-lasting battery,1 the Certified Pre-OWned Samsung Galaxy Note9 is designed for ultimate performance. Control your smartphone remotely with the new and upgraded S Pen.2 Play music from every direction on the first Note device with stereo speakers. Create your own personalized emojis, record videos in stunning 4k UHD, take photos on a dual-aperture camera3 and more. Get the most out of your Samsung Galaxy Note9 with Verizon, the nation's largest and most reliable 4G LTE network.
Reseñas
68% of reviewers recommend this product.
Love it
Sí, recomendaría este producto.
Love the note9. Love the stylist & big screen.
Device isn't what I was expecting
The screen is going out and you can see its burned the images on the screen. It started after the 2nd day I had the device. And since then the screen has been really dim and not getting better
1 Compared to the Galaxy Note8.
2 Samsung Account log-in and data network (Wi-Fi or internet connection) required. Translation speed may vary depending on internet connection and word count. This function is limited to selected languages. For the full list of languages, please visit www.samsung.com/galaxy
3 The Dual Aperture supports f/1.5 and f/2.4 mode. Dual Aperture is installed on the camera.
4 Dex and Cable (HDMI adapter) sold separately; compatible to Galaxy Note9 and Tab S4. Some functions may differ from DeX Pad/DeX Station.
5 Based on average battery life under typical usage conditions. Average expected performance based on typical use. Actual battery life depends on factors such as network, features selected, frequency of calls, and voice, data, and other application-usage patterns. Results may vary.
6 IP68-rated water resistant for up to 5 feet of water for up to 30 minutes. Rinse residue/ dry after wet.
7 Regular Slow-mo is 240 frames per second. Super Slow-mo is only available for up to 6 seconds of recording.
8 Galaxy Note9 can capture in 4k video but screen does not play back in 4k.
9 Samsung Pay is only available in select countries, with certain devices, features, card issuers and merchants.