carrusel con 1 diapositivas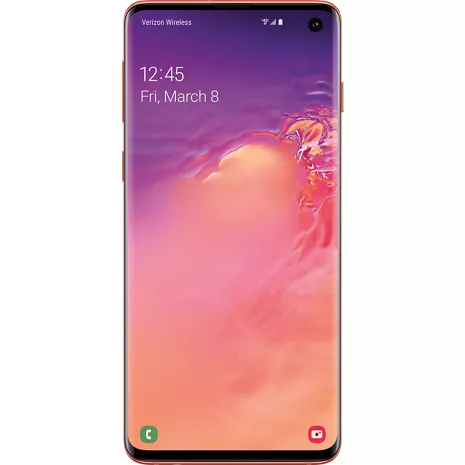 carrusel con 1 diapositivas
This item is out of stock.
The new Samsung Galaxy S10 is a phone that's as powerful, intelligent and intuitive as you are. Do more of what you love with Wireless PowerShare, an all-day intelligent battery* and a revolutionary Epic Shot camera that puts professional tools at your fingertips. A nearly bezel-free Cinematic Infinity Display gives you a crisp, uninterrupted view of your screen. Samsung Galaxy S10 comes in Prism White, Prism Blue, Prism Black, and Flamingo Pink colors (subject to availability). Unleash its full potential with Verizon, the nation's largest and most reliable 4G LTE network.
Reseñas
54% of reviewers recommend this product.
Works like a champ
Sí, recomendaría este producto.
I've had this device going on two years now and it's never let me down. Still have the Gorilla glass screen it came with. For what I use my phone for, I'm satisfied and hope to get another two years off of it.
Wont work after update and cs sucks
It wont work after update and your reps won't help me
Samsung - 1 month ago
Hello Don, thank you for your feedback on your Samsung Galaxy S10. If your device was functioning as intended prior to the software update, please reach out to the Samsung Support Team for assistance in troubleshooting your device. We appreciate you being a Samsung customer, and are here to assist you at your convenience. -Elizabeth
*Based on average battery life under typical usage conditions. Average expected performance based on typical use. Actual battery life depends on factors such as network, features selected, frequency of calls, and voice, data, and other application usage patterns. Results may vary.
†Dual Aperture supports F1.5 and F2.4 modes. Dual Aperture is supported on the main rear camera.
‡Works with Qi compatible Samsung devices (compatibility with non-Samsung Qi devices not guaranteed); speed and power efficiency of charge varies by device.
§Memory card sold separately.