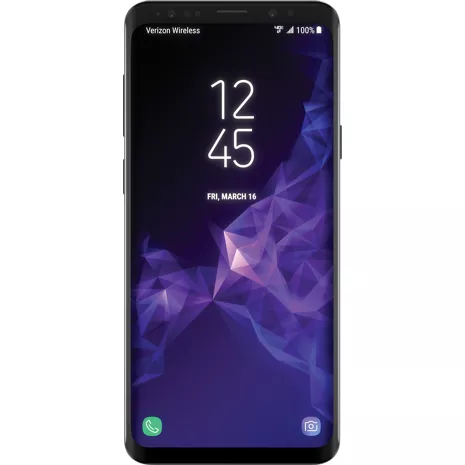 carrusel con 1 diapositivas
This item is out of stock.
The Certified Pre-Owned (refurbished) Samsung Galaxy S9+, on the best network. A powerful dual camera that can record in super slow-mo and capture 4k video in true-to-life detail. Stay entertained on an edge-to-edge Infinity Display. Translate languages with Bixby¹ and unlock your phone using advanced facial recognition. Experience the next evolution of the Samsung Galaxy. Samsung Galaxy S9+ comes in midnight black, lilac purple and coral blue colors (subject to availability).
Reseñas
58% of reviewers recommend this product.
S9+
Sí, recomendaría este producto.
This is our second s9plus. My wife had j7 that constantly had issues breaking up. The s9+ is very consistent, I have had mine for over 3 years and have had no problems
Samsung - 3 days ago
Hi John... Thank you for taking the time to review your Samsung Galaxy S9+. Your input is important as we continue to bring our consumers the best in design and functionality. We are thrilled that you're enjoying your device and that our products have been a constant for you and your wife! If we can offer you any assistance, please don't hesitate to contact Samsung Support. Thank you for being the best part of Samsung. -Bethany
1. Samsung Account log-in and data network (Wi-Fi or internet connection) required. Translation speed may vary depending on internet connection and word count. This function is limited to selected languages. For the full list of languages, please visit www.samsung.com/galaxy.
2. The Cat. 18 modem allows for up to 20% higher max data transmissions than the Samsung Galaxy S8's Cat. 16 modem. The Samsung Galaxy S9+ also supports additional network bands and enhanced 4x4 MIMO/CA (carrier aggregation).
3. In comparison to the Samsung Galaxy S8.
4. Dual aperture on rear lens only.
5. Rear camera only.
6. Only on select apps.
7. Wireless charger sold separately.
8. Water resistant in up to 5 feet of water for up to 30 minutes. Rinse residue/dry after wet.
9. MicroSD card sold separately. Samsung Galaxy S9+ comes with 64GB of storage.
10. Based on average battery life under typical usage conditions. Average expected performance based on typical use. Actual battery life depends on factors such as network, features selected, frequency of calls, and voice, data, and other application-usage patterns. Results may vary.
11. DeX sold separately. Works with compatible devices.